Scholars: Trump's team should help him treat China-US relationship carefully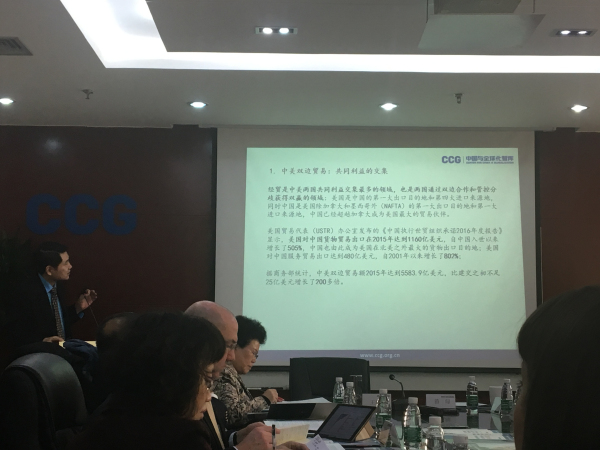 Wang Huiyao, President of Center for China and Globalization, is delivering speech during the launching seminar of the report "Trump's Coming Era: Challenges, Opportunities and Policy Responses".[Photo by Wu Zheyu/chinadaily.com.cn]
The day before Trump takes office, in order to prepare for more comprehensive analyses and suggestions for tackling bilateral relations between China and US, The Center for China and Globalization (CCG) recently released the report "Trump's Coming Era: Challenges, Opportunities and Policy Responses" and held a seminar to launch it.
After several months of concentrated research and observation on Trump's past life and New Deal features, with a think tank's vision the CCG research team identified eight major opportunities, eight challenges and 10 policy recommendations that Sino-US relations will face in the future. More than 20 well-known experts on aspects of China-US relations in political, economic and public policy spheres discussed the issues in depth during the seminar.
Paul Haenle, director of the Carnegie-Tsinghua Center for Global Policy, suggested that Trump's team should help him to treat Sino-US relations more carefully: "I think China's leadership is very smart to wait and see what he will actually do after the inauguration, instead of over-reacting; as you know up to now Trump has just been an ordinary citizen of the United States. We really hope there will be some efforts to make sure he doesn't cause too much damage, and to help him treat the China US relationship very carefully, to ensure that the progress made by generations over decades won't be damaged."
From a corporate perspective, Alan Beebe, the president of AmCham China, expressed his expectations of Trump's coming term: "I think what both Chinese and American companies want is firstly predictable regulators and a consistent policy environment, secondly it's the transparency -- transparency of information and the limits of power. We're worried about whether there's going to be a trade war or massive investment, or other things, it really doesn't seem like a win-win situation. Fairness is a good concept for us to promote, fairness in China's market place, fairness in the US' economic and trade environment. It might be both a challenge and an opportunity; it's a complicated situation."
He Ning, the former director of the Department of American and Oceanian Affairs, Ministry of Commerce of PRC, thinks that maybe we should not be too worried about Trump's coming inauguration. He said, "We usually take economics and trade relations as a vital part of Sino US relations, and describe them as both propeller and ballast stone in the relationship. If Trump wants to fulfill his promise to 'make the United States great again', economic development, people's well-being and sufficient employment are three areas that can't be avoided. But without China's help, how can he achieve improvement in these areas? That's a problem he can't avoid. I believe that although he doesn't have much political experience, as a businessman he must weigh advantages and disadvantages. I think what he's doing right now is just testing all the stakeholders' baselines."
"There's an old saying in the US, "Where you sit decides where you stand"; Trump, in his position, is unavoidably contained by various parties. And from my experience, 95 percent of the decision-makers in America don't go to extremes because they need to take care of different kinds of stakeholders' interests. So we shouldn't be too worried about Trump. Just wait for some time after his inauguration, and then try to figure out how to respond to his request," He concluded.