Regulators right to act to ward off financial speculation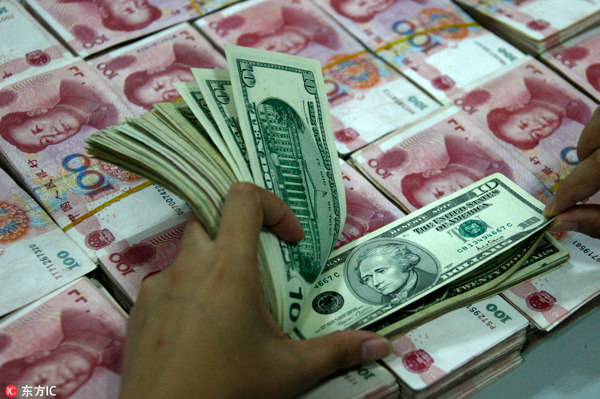 A clerk counts yuan bank notes and US dollar bills at a branch of the Industrial and Commercial Bank of China in Huaibei, East China's Anhui province. [Photo/IC]
China's monetary regulators have been strict in checking the background of foreign exchange purchases amid intensifying pressure on capital outflows and contracting foreign exchange reserves.
The State Administration of Foreign Exchange recently required the existing rule on information reporting regarding the purpose of foreign exchange purchases be implemented in a much stricter way. According to media reports, those who exchange foreign currencies are now required to give more detailed proof of their planned activities falling into such approved categories as tourist travel, education, business travel, visiting relatives, medical treatment, imports of goods, buying non-investment insurance products and consultation services.
For many who have advocated economic liberalism and those who truly believe in it-both in and outside China-the country's recent move to tighten regulations on capital flows goes against their long-held belief and thus is unbearable. They have argued that China should allow capital to flow in and out freely.
Such an argument sounds plausible but it is unrealistic because history has shown that the effect of free capital flows is differential: An economy that is more powerful and has more international clout benefits from free capital flows while a weaker one's financial security will be threatened if capital is allowed to flow freely.
Reflecting on the causes of the global financial crisis that erupted in 2007 and 2008, Joseph Stiglitz, US economist and Nobel Laureate, on various occasions has argued that the traditional economic and finance theories dominant in recent years have shown defects and unrestricted and unregulated markets are not self-corrective, nor necessarily stable or efficient.
Stiglitz obviously targeted at overall economic regulation when he made the comments, but his views can also be applied to China's management of cross-border capital flows. Suppose China allows capital to move in and out of China freely, given its high asset prices and the lingering depreciation expectations for the yuan, massive capital exodus will have a serious impact on its financial security and could possibly cause a large-scale crisis.
As was the case when Southeast Asian countries and Russia became prey of international capitalists after they were persuaded into opening up their capital accounts in the 1990s before they were capable of sustaining the shocks caused by the abrupt and massive capital outflows.
China is the world's second-largest economy, but it accounts for just more than half of the US economy in terms of GDP scale. And it is far less influential in the international financial market than the US, as the dollar remains the world's predominant currency. Reflecting its superb financial edge, an interest rate hike and rising dollar index can simply drive colossal amounts of capital to flow into the country, leading to liquidity shortages in other countries and causing drastic fluctuations of other currencies.
If China had similar financial prowess, it certainly need not worry much about free capital flows.
Given China's youthful financial system-it only has a short history of economic opening-up and is still learning from advanced economies how to manage its financial sector, it is legitimate and reasonable for the country to adopt a gradual approach toward financial liberalization and take measures to ward off financial speculation and maintain financial stability at a time when its financial security is at risk.
The author is a senior writer with China Daily.
xinzhiming@chinadaily.com.cn