Air pollution masks symptom of throwaway society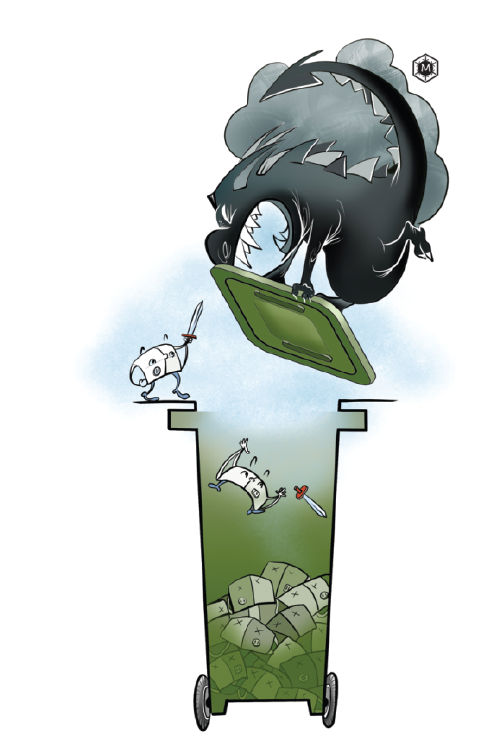 MA XUEJING/CHINA DAILY
A new pollution problem has hit big cities like a brick in the back of the head. Not only is the air a sea of poisonous particles but also city sewerage workers have a new problem in their vocabulary-wetballs. Tens of thousands of masks unthinkingly discarded end up in sewers and stick together as balls of plastic and mucus, soot and snoot.
The phenomenon of why they glue together is not understood but when a worker pincers a hunk of gunk from the passing mire in the treatment plant it emerges from the sucking surface as a sphere, with dangling ear slings identifying it as rolled layers of masks.
The demand for masks is a big boost for suppliers. It is the remarkable highlight of 3M's CEO, Inge Thulin's report to his shareholders. When a $30 billion a year corporation operating in nearly every country in the world headlines its good news with sales of air pollution masks to China, it shows how sick growth fixation can be. The boon for manufacturers of masks came as a surprise and they are scrambling to establish differentials in price, quality, technology and now even in fashion kudos.
Common sense introspection will tell you that the types of surgical masks on sale for a few yuan will not filter PM2.5 (particulate matter with a diameter of 2.5 micrometers or less). They seem cheap and become messy but they are discarded after a few days. The proper procedures for disposal of surgical masks used for the original intentions (in surgery) require wearing gloves and insertion into a bag to be sealed and dealt with in hospital facilities. In practice people in smog-affected cities throw them in the garbage, toilet or just on the ground.
Surveys of mask use by passersby in a variety of Chinese city thoroughfares reveal a range of non-usable, cheap and upmarket masks. The most effective are contoured material allowing effective sealing around the edges and with replaceable filter satchels. It is estimated that in hazardous smog the daily disposal of masks amounts to 600 kilogram per 1 million commuters. That is only a few tons a day for Beijing, where daily solid waste runs at 20,000 tons. But each mask is supposed to collect nasty pollution on the outside and traps human health problems on the inside. Waste pickers won't touch them.
The rush to meet the hyperbolic demand means no thought to what happens to masks after they are discarded. Biodegradable is not a quality sought out. The layers of mask must be liquid resistant and are plastics-based, guaranteeing a long afterlife. The dilemma has sent environmental planners scrambling, adding another comparatively small issue to the mounting pile of tasks to address.
The caretakers of environmental policy were proud there for a while when Beijing air was getting some share of blue skies. The move to cleaner car fuels in 2017 has been something to anticipate with hope. So the new problem is more symbolic than serious, and a reminder of what happens when humans think they can plan giant cities.
The symbolism was crystalized creatively by artist Wang Renzhen, dragging an industrial vacuum cleaner though the city for four hours a day for 100 days, sucking in at head height enough particles to mold a brick. Artistic license shattered the ideals of a clean megapolis.
A new reason to double public awareness and pressure polluters to reduce emissions. And a new task to add to proper planning of waste disposal. "It is a surprise, and a step in the wrong direction," admits a colleague in environmental planning, adding sullenly, "like a brick in the back of the head".
The author is a fellow at the Environment Futures Research Institute, Griffith University, Australia.