China's inevitable role in pushing the frontier of innovation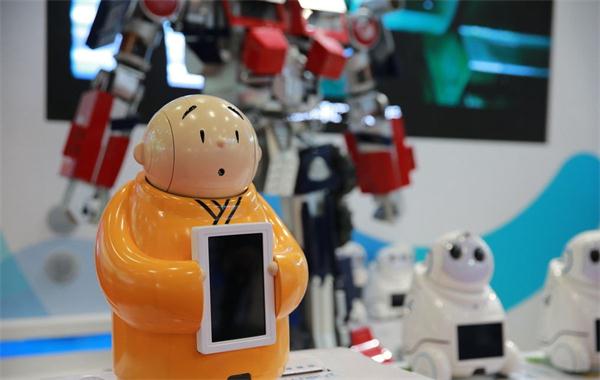 Robot monk Xian'er is on display during the 2015 World Robot Conference in Beijing, China, 23 November 2015. [Photo/IC]
Reporter's Note: As Davos Forum 2017 approaches, the China Daily website had an exclusive interview with Mark Greeven, Associate Professor of the School of Management, Zhejiang University, seeking his insight into major issues of most concern to him at the Davos Forum this year. He emphasized that China has proven to be innovative in many industries and technologies, pushing the frontier of innovation in various vital sectors.
1. The official Davos website points out that Global events this year have reminded decision-makers that the more complex a system, the greater a community's concern about its future. The weakening of multiple systems has eroded confidence at the national, regional and global levels. And, in the absence of innovative and credible steps towards their renewal, the likelihood increases of a downward spiral of the global economy fuelled by protectionism, populism and nativism. What's your outlook for the world economy in 2017? How can we innovatively and solidly foster the renewal of the global system? What kind of responsibility do you expect China to take within that process?
The reality is that the world has always been more complex and interdependent than we would like to admit. The current negative trends and national emotions are probably a result of the disappointment of the large group of common middle class citizens in the lack of tangible positive rewards of a global economy. In my opinion, as a business school professor, the answer should probably be in an increasingly important role for entrepreneurs in shaping the future and making changes not only in the economy but also in the society. Entrepreneurs are the real change makers and social entrepreneurs may be able to mobilize key stakeholders, including governments and citizens, most effectively. China, as one of the largest stakeholders in the world economy and society, will inevitably play a large role in this process. And, China has proven in the past years to be a supporter of entrepreneurship and innovation; China's economic power is mostly driven by entrepreneurs.
2. Martin Wolf mentioned in an article that behind the tendency towards economic growth lie two powerful forces: innovation at the frontier of the world economy, and catch-up by laggard economies. The two are linked: the more the frontier economies innovate, the greater the room for catch-up. An important longer-run possibility is that the underlying economic engine is running out of steam. Catch-up still has great potential. But core economic dynamism has declined. One indicator is falling growth in productivity. Another is ultra-low real interest rates. People are worrying about whether the advance of the frontier of innovation has in fact slowed. While what do you think about the two forces? Is it possible that China could maintain catch-up growth?
The two forces appear to suggest that only advanced economies can innovate and developing economies are always in a position of catch-up. I would not agree with that. My research in Zhejiang University and research in collaboration with CEIBS shows that China has proven to be innovative in many industries and technologies – pushing the frontier of innovation in sectors such as ecommerce, fintech, solar energy, digital communication, big data, display technology, nanotechnology among others. While many observers would emphasize cost and process innovation, often indeed not 'new to the world', in fact we see companies like Huawei, Lenovo, Haier and also the Internet giants Baidu, Alibaba, Tencent (BAT) relentlessly innovating products and technologies, often disrupting traditional industries such as BAT has done in the catering, financial services, taxi, healthcare and other sectors.
Then again, these giants are just the tip of the iceberg. There are many hidden innovation champions, companies such as Hikvision (security cameras), Trinasolar (solar energy) and DJI (drones) have significant global market shares but are less well known; many of these are technology driven rather than process or cost driven. I would say that China is not just catching up but often pioneering in more than a handful of industries and technologies. If Mr. Wolf's frontier economies have slowed down in innovation, it may also just be the case that laggard economies in some sectors are outcompeting the so-called frontier economies. It is also important to note that it is dangerous to consider China as one homogenous single economy; in fact, many parts of China (East coast in particular) have the development, income and prosperity levels of your average developed economy and are by no means lagging behind, while other parts of China are clearly in need of catching up with the rest of China (rather than the rest of the world).
3. Various European economists have expressed concern about the coming presidency of Donald Trump, specifically the expectation of inflation from his planned economic policies. They worry that the policies may worsen the debt structure of European countries, or even cause a global trade war. What's your opinion on the influences that Trump's coming term may bring for European countries?
Until the economic and foreign policies of Trump's government get more concrete, most European countries will feel a sense of uncertainty. Such uncertainty may lead to more careful behavior on the side of companies in terms of overseas investments and expansion and on the side of governments in terms of protectionist measures. Nevertheless, relations with China stand strong and I suppose that in the near future European countries and companies will further align with China and perhaps India to seek certainty in business, especially considering the relative opportunities that emerging markets like China and India still offer.
4. Of the 14 System Initiatives of the Davos forum, such as Shaping the Future of Consumption, Digital Economy and Society, Economic Growth and Social Inclusion, Financial and Monetary Systems, International Trade and Investment, Long-Term Investing, Infrastructure and Development, which do you consider the most important? And in what areas might we see major advancement in 2017?
I see some key words, such as consumption, digital, which I think might be very relevant for China's economy in 2017. Upgrading domestic consumption, combined with digital disruption will be one of the key drivers for China's economy, a trend set over the past years. At the same time, financial and monetary systems will be closely followed in China and the rest of the world as current political instabilities combined with fluctuating currencies pose significant uncertainties for financial markets and investors. In the case of China, we also see a stronger support of foreign capital inflow while at the same time a stricter control of domestic capital outflow, in an attempt to keep capital within China's borders. In light of China's ambition to further integrate in global markets, limits on overseas investments may hinder such ambition. China's leadership is facing a real dilemma here.
5. Considering the Davos theme of responsive and responsible leadership and the system initiatives of the Davos forum, is there any topic you, as a university professor, think that should be high on the agenda when it comes to renewing and innovating the global system and increasing trust in the global economy?
As a professor in the business school, working with students from many countries and cultures, my main concern is fostering future change makers. In the light of recent global events and negative trends of protectionism and inward looking perspectives, I worry about how to better facilitate the development of a new generation. This new generation need not lose the curiosity to explore the world, in all its diversity and complexity, beyond borders and across cultures. In my opinion, the question is one of reforming global education systems to foster a new generation of change makers, from primary schools to university institutions, with access to proper education for all. History has shown that those with proper education and prospects of a better future will have a positive attitude and contribution to society and economy. I would emphasize that the recently popular developments in technology and digitalization at best can facilitate such reform, but cannot fundamentally solve the motivation and curiosity question of education. I think that that is also a question of responsive and responsible leadership.