Haze is not meteorological disaster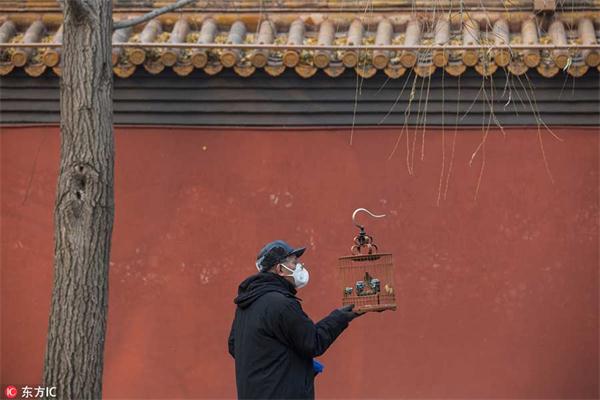 A man walks with a bird in a cage at Jinshan Park in Beijing, Dec 18, 2016. [Photo/IC]
BEIJING RECENTLY PUBLISHED the third draft of regulations for preventing and controlling meteorological disasters. The draft regulations aroused fierce public discussions as smog is listed as a meteorological disaster. Maybe the regulations are meant to mobilize more resources to fight smog, but it seems that it makes it easier for officials to shirk their responsibility for good air quality, says hsw.cn:
Li Xiaojuan, the spokesperson for the legislative affairs committee of Beijing people's congress, the local legislature, said they included smog as meteorological disaster because they hoped to strengthen the awareness of the need for the whole of society to tackle smog. The move would not change the municipal government's leading role in fighting smog, Li said.
These words sound reasonable, but they are fundamentally flawed because smog is not a natural disaster. According to the current Meteorological Law, meteorological disasters are natural disasters, such as typhoons, storms, sandstorms, high temperature, drought, lightening and hail; these disasters cannot be prevented under the current conditions. We can only protect ourselves and reduce any damage when it happens.
Smog is different from a natural disaster because it is a product of industrial pollution, and it could be prevented if we curb our pollution. Smoggy weather means our pollution is rather heavy and we have much to do to curb the pollution. Thus it is scientifically wrong to put smog in the list of meteorological disasters.
More importantly, by redefining smog as a "meteorological disaster", officials could easily shirk off their responsibility. If the draft passes, that will leave a loophole in the law to help illegal polluters and environmental quality supervisors who fail in their duty to escape their deserved punishment.
A look at media reports and social networks shows that the majority of people oppose the inclusion of smog in the list of meteorological disasters, because only with common consensus of the society could we better curb smog.