Buying of personal information also illegal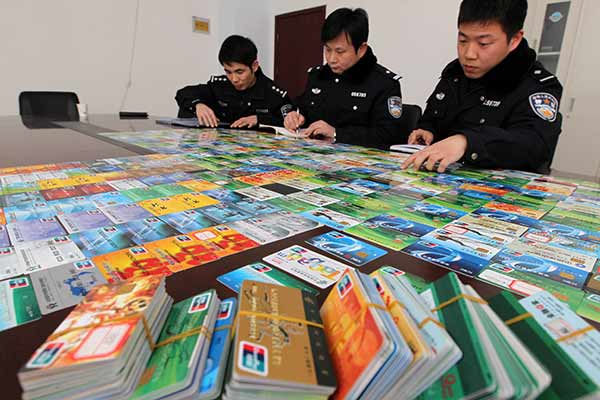 Police officers make a list of bank cards seized in a telecommunication fraud case in Xuchang, Henan province, in January. NIU YUAN/CHINA DAILY
A JOURNALIST IN SOUTH CHINA'S GUANGDONG PROVINCE managed to acquire a colleague's personal information, ranging from real-time locations and flight numbers to hotel check-in records, from an "online merchant" at the cost of just 700 yuan ($101) as part of an investigation into the selling of personal information. But as the Ministry of Public Security said on Monday the journalist broke the law as purchasing other people's information also constitutes a crime. Beijing News commented on Tuesday:
It is abhorrent that the leaking of personal information has reached such levels despite all the efforts to keep it in check.
Of course, people should be more aware of the latent dangers and make better efforts to protect their personal information, but that cannot be used as an excuse for the authorities not to do more supervisory and enforcement-related duties in this regard.
A cybersecurity law, approved by the Standing Committee of the 12th National People's Congress, China's top legislature, will come into effect on June 1, 2017, and there was an amendment to the Criminal Law last year that made violating personal information a crime, in addition to the selling and providing or accessing of personal information that were declared illegal in 2009.
Yet that is not enough without efficient law enforcement.
It is time for regulators to renew their efforts to cleanse the underground information market. Apart from punishing wrongdoers, they should resort to cutting-edge technologies based on big data to trace those involved in the selling or illegal use of personal information, and find out why they managed to access the information-collecting system.