Hong Kong people say no to separatism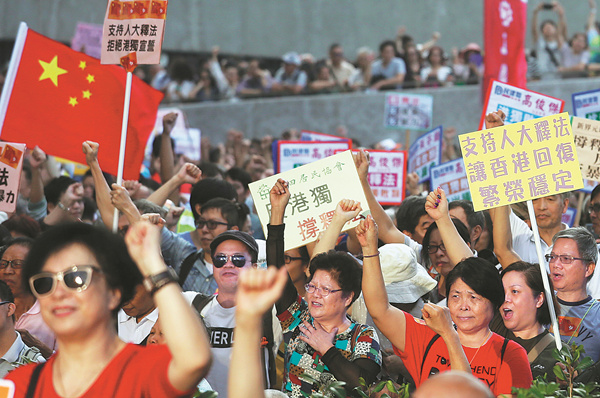 Tens of thousands of Hong Kong residents join a rally outside the Legislative Council complex to show support for the NPC Standing Committee's interpretation of the Basic Law on Nov 13. Roy Liu /China Daily
Hong Kong residents are increasingly realizing the dangers of tolerating the advocacy of "independence" for the special administrative region.
This was evident in the rally on Sunday, which unambiguously demonstrated the general public's strong endorsement of the recent interpretation of the Basic Law by the Standing Committee of the National People's Congress.
In the latest show of their abhorrence for separatism, some 40,000 Hong Kong residents took to the street on Sunday to voice their support for the interpretation of Hong Kong's Basic Law, which makes it clear and explicit that public officers who fail to take the oath of office sincerely and solemnly shall be disqualified, and that those who make a false oath or subsequently engage in acts violating the oath bear a legal responsibility.
Since two separatist legislators-elect openly promoted their separatist ideas during their swearing-in for the Legislative Council four weeks ago, more than one million people have signed an online petition demanding the immediate disqualification of the two as lawmakers.
And over the past few weeks, a host of civil and business organizations in the SAR have condemned the behavior of these two agitators, as well as that of a few other "pro-independence" lawmakers with numerous co-signed statements and advertisements placed in newspapers.
A resdient filed a judicial review case with the High Court on Thursday, seeking to disqualify another eight lawmakers who failed to take their oath of office in a way that complies with the legal requirements as defined by the National People's Congress Standing Committee in its interpretation of Article 104 of the Basic Law.
Hong Kong people have a strong reason to speak out. They are fully aware that "Hong Kong independence" is a dangerous delusion.
Hong Kong people understand that "one country" is the premise and basis of "two systems". Attempts to sabotage this premise by denying the former only derail the smooth implementation of the later, which is the foundation of Hong Kong's long-term stability and prosperity.
President Xi Jinping underscored the nation's determination to safeguard its sovereignty and territorial integrity as one country in his Friday speech commemorating the 150th anniversary of the birth of Dr Sun Yat-sen.
The overwhelming majority of Hong Kong residents see no reason to allow a small group of radicals to gamble the overall well-being of Hong Kong society on their losing bet that they would be able to rip the SAR away from the rest of the country.