Trump likely to kill TPP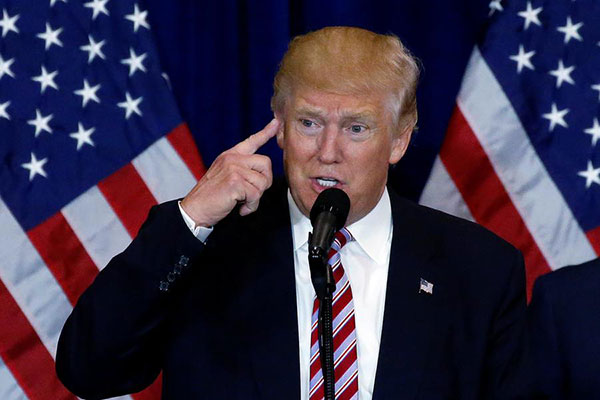 Republican presidential candidate Donald Trump speaks at a post Republican Convention campaign event in Cleveland, Ohio, July 22, 2016. [Photo/Agencies]
The US administration of President Barack Obama announced on Friday its suspension of efforts to win congressional approval for Trans-Pacific Partnership, saying it was up to president-elect Donald Trump and Republican lawmakers.
Considering Trump's clear expression of opposition to the deal several times and even labeling it a "disaster", it seems likely that the TPP is now dead.
Obama remarked that the US would not allow countries such as China make the global trade rules and vowed US-led domination of the process shortly after representatives of TPP member states reached a consensus in October 2015. Given that the TPP members combined account for 40 percent of the world's total economy and that China is excluded from the bloc, it has been widely believed that the TPP is aimed at containing China and excluding it from regional economic integration.
However, the Obama administration's push for the TPP was not well-received in the US. Labor unions, in particular, expressed concerns about the deal, saying it would cost jobs in the US. Considering his campaign stance, Trump is expected to put domestic issues, such as how to promote economic development and employment, top of his agenda after he is sworn in as president. So his first move may be to renounce the TPP in a bid to appease his supporters.
In fact, since China is the largest trader in goods, no country in the world can afford not to have economic and trade links with it. Of the 12 TPP member states, five have reached FTA agreements with China and seven are participating in the discussions for the Regional Comprehensive Economic Partnership that is inclusive of China.
No matter what strategic intentions there were behind Obama's TPP campaign, the trend of globalization will not change and any attempt to contain China will be no avail. Trade agreements must be built on the principles of common development, mutual benefit and reciprocity.
--CCTV.COM