China-CEE ties on new economic path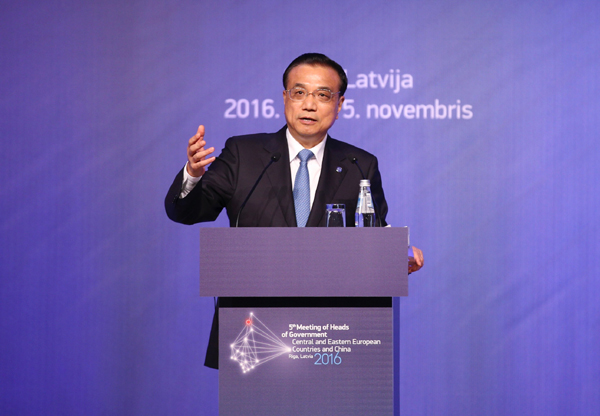 Chinese Premier Li Keqiang speaks at a news conference in the National Library in Riga, Latvia, Nov 5, 2016. [Photo provided to chinadaily.com.cn]
Chinese Premier Li Keqiang is currently embarked on an epic "Eurasia" grand tour encompassing many of the countries along China's One Belt, One Road (OBOR) Initiative, particularly those on the New Silk Road Economic Belt. Premier Li just attended the 15th Shanghai Cooperation Organization (SCO) Council of Heads of Government in Bishkek, Kyrgyzstan, and is making a historic visit to Riga, Latvia, for the Fifth Summit of China and Central and Eastern European (CEE) countries.
The geopolitical significance of Premier Li's trip cannot be overstated. The two visits, plus bilateral stopovers in Kazakhstan and Russia, are not disconnected – they herald the Chinese leadership's unveiling of a new "Eurasia" economic vision and strategy to be implemented in large measure through the OBOR Initiative.
Moving away from its traditional role as solely a regional security forum, the SCO meeting in Bishkek focused on an ambitious, far-reaching economic agenda. Premier Li set forth a six-pronged proposal and the SCO membership issued a joint communiqué highlighting the agenda's main points.
China and other SCO members stressed the importance of increased inter-connectivity between their economies. A joint taskforce is to be set up to address streamlined customs and harmonized border control, inspection, quarantine as well as certification and accreditation. The members also adopted the List of Events comprising 38 measures, which will guide SCO practical cooperation (2017-2021) in seven areas ranging from trade and investment to customs and agriculture. Premier Li particularly stressed the need for international production capacity cooperation, which will accelerate industrialization of other SCO countries and serve as a pathway towards regional economic integration.
At the same time, the members will make use of the SCO Environmental Information Sharing Platform to promote best ecological practices, environmental technology innovation and clean energy development. China also advocated for the establishment of a SCO e-commerce alliance to advance trade facilitation, customs clearance, cross-border e-commerce and logistics capabilities. On the crucial and sometimes contentious issue of SCO regional infrastructure finance, Premier Li emphasized the need to establish the SCO Development Bank, while also relying on other investment and financing platforms, including the SCO Inter-Bank Consortium, the Asian Infrastructure Investment Bank (AIIB), the Silk Road Fund, China-Eurasia Economic Cooperation Fund and the BRICS New Development Bank.
In light of a recent accord between China and Russia, the SCO membership is now seeking to enhance synergies between China's One Belt and One Road (OBOR) Initiative and the Eurasian Economic Union (EEU), a Russian initiative. A major feature of such cooperation, discussed at the Bishkek meeting, is the eventual creation of a SCO Free Trade Area, with FTA feasibility studies soon commencing. This would be a major development which would place the SCO on similar footing to that of EEU and could be the basis of a fully-fledged future Eurasian Mega-regional. It also underlines the commitment of SCO membership, including Russia, to link their national development strategies to greater regional economic integration via China's OBOR.
At the CEE or 16+1 Summit in Riga, Latvia, we can expect further deepening European economic cooperation with China in regards to production capacity, transport, infrastructure and finance. From China's perspective, the CEE countries play a pivotal role in OBOR, which includes several transport corridors linking China with Europe. Three proposed corridors to Western Europe pass through the CEE region - from Greek ports via Southern Europe and the Balkans, via Poland, and via the Baltic States.
China-CEE relations are already well developed, and actually have a long history dating back to the Soviet era. The Fifth CEE Summit is founded on substantial progress made since 2012, including the Suzhou Guidelines (for 2016), the Medium-Term Agenda for Cooperation between China and CEE Countries (2016-2020) and the Belgrade Guidelines (2014). Infrastructure construction and the expansion of transport links have understandably been featured prominently, including the development of roads, railways, ports, telecommunications and pipelines. The Suzhou Guidelines also include a customs facilitation agreement for goods in transit and means of transport.
At the 16+1 Summit, we can expect renewed emphasis on the "three-sea harbor district cooperation" initiative. This initiative, proposed by Premier Li, refers to cooperation programs covering the Adriatic Sea, the Black Sea, and the Baltic Sea. Latvia's port of Riga, in particular, is seen as a vitally important "harbor" link to the Baltic Sea and Latvia is considered a key transit point for China-EU trade. Latvia plans to create a transportation network involving China, Kazakhstan and Belarus, and set up a 16+1 Secretariat for transport and logistics. The small Baltic State will also sign a MoU with China concerning its participation in OBOR during the CEE Summit. The MoU covers a range of sectors including transport, logistics, infrastructure, trade, finance, technology and culture.
Premier Li has made it clear that China-CEE relations are intended to be conducive to a renewed, balanced development of Europe and its integration, notwithstanding Brexit, and are situated within the larger context of the China-EU comprehensive strategic partnership.
The author is a Director of the Centre for International Economic Law, Trade & Development (CIELTD).