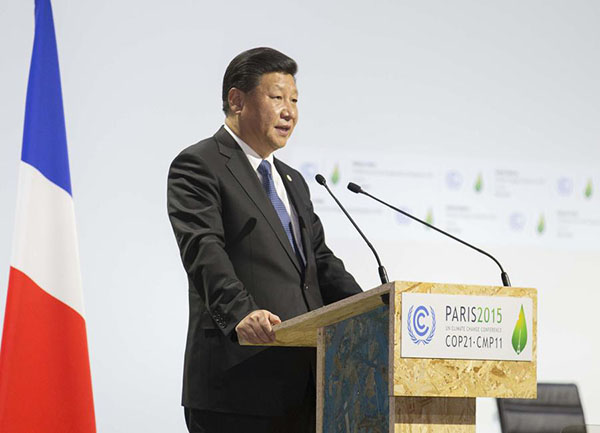 President Xi Jinping delivers a speech for the opening day of the World Climate Change Conference 2015 (COP21) at Le Bourget, near Paris, France, November 30, 2015. [Photo/Xinhua]
Friday will mark another milestone in the global fight against climate change, as the Paris Agreement starts to take effect after at least 55 countries, which account for more than 55 percent of global greenhouse gas emissions, have signed the accord. It will also mark a turning point for future UN climate change conferences, with the next one taking place in Marrakech, Morocco, from Nov 7 to 18.
At the Marrakech conference, those countries which have ratified the Paris Agreement will sit together to explore how to implement the agreement and help people living on low-lying islands, and landlocked and poorer countries vulnerable to climate disasters.
Globalization is in reverse and trade protectionism and populism are taking hold in the Western world, and regional wars, terrorist threats and geopolitical concerns are increasing across the world. The success in the climate fight, even if temporary, is reason for celebration.
It is encouraging to see global stakeholders such as China, the United States, the European Union and India "on the same page" on the issue of sustainable development. In particular, China, the US and the EU's driving roles at the climate talks is praiseworthy, and should be emulated at other global conferences for the common prosperity of the world.
The Paris Agreement could become a game changer for world development. In contrast to the top-down approach of allocating emission reduction quotas for industrialized countries in the Kyoto Protocol, countries across the world have "voluntarily" pledged their goals and targets in the Paris Agreement, which serves as a framework to manage global carbon emissions during 2020-30 period.
For example, China has said its emissions will peak around 2030 and it will take measures to achieve it at an earlier date. It has also devised detailed plans and set targets for energy-saving, coal production and burning, and renewable energy use.
The Paris Agreement could expedite the change in the economic development pattern and revolutionize low-carbon technologies. For that to happen, however, the UN should offer a mechanism to encourage countries not to fall short of their promises for the 2020-30 period.
That many countries, including China, are very serious about delivering on every single word they have committed is a good sign. For instance, China, which relies mainly on coal to power its economy, has already reduced the growth in coal consumption while maintaining a healthy economic growth rate. To top it, owners of wind farms in the Xinjiang Uygur autonomous region are seeking to export green energy to European countries and automobile makers have started selling their electric cars worldwide. Moreover, for climate aid, China has helped set up a South-South cooperation climate and sustainability fund under a UN framework.
But the outcomes of Kyoto Protocol (2008-12) and its second commitment phase show there is no reason for complacency, as many industrialized countries have not met their emission reduction targets, some have stepped back while others have not even signed the second phase.
The world has to understand the Paris Agreement is not only a story of green competition, it is also about cooperation and sharing resources to protect the Earth. The Paris Agreement has not forgotten to mention again that from 2009, developed countries pledged $100 billion by 2020 every year to help poor countries fight and adapt to climate change; the target is "at least $100 billion" a year during the 2021-25 period. The pledge came when Barack Obama entered the White House. While he is preparing to leave office with the Paris Agreement as one of his legacies, it will be interesting to see how his successor honors the promise.
Importantly, there should be more scrutiny on how, as a global leader, the US drums up support from developed countries to help the world's South in winning their death-or-survival fight.
The author is deputy chief of China Daily European Bureau.
fujing@chinadaily.com.cn