Smog-clearing tower just eyewash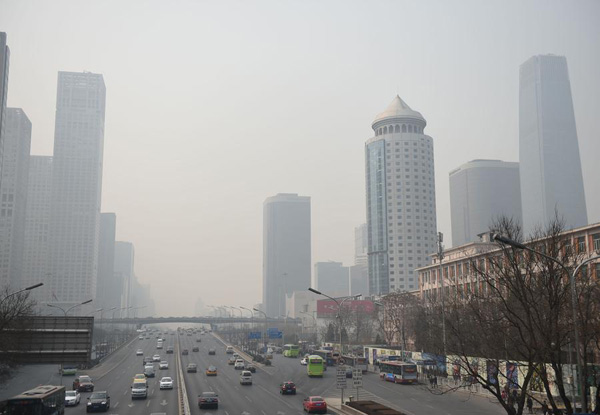 Heavy smog covers Beijing on March 16, 2016. [Photo/Xinhua]
A 7-METER-HIGH SMOG-CLEARING TOWER has been put up in a square in the Wangjing district of Beijing, which designed by an artist from the Netherlands, is said to clean the air by collecting the small particles in it. But the tower is more a piece of art than a functioning anti-pollution device, says Science and Technology Daily:
It seems the tower looks rather nice and is
 ecologically sustainable. It has a beautiful shape, attracts eyeballs, and the carbon pollutants it collects will be used to make industrial diamonds, according to reports.
But will such a tower truly help improve Beijing's air quality? It is reported that it is able to process 30,000 cubic meters of air every hour. That figure looks sizeable, but it is only equivalent to the emissions of a middle-sized restaurant. To expect the tower to clean the air of Beijing is like throwing a sponge into a lake in the hope of drying it out.
A rough estimate shows that you would need at least 100,000 such towers to clean the air within the fifth ring road in Beijing. That shows how ridiculous it is to place the hope of cleaner air on the tower.
Yet some realty developers and local governments near Beijing were reported to be trying to reach the designer, hoping to talk with him about introducing the tower in their communities. It is easy to see that the realty developers are simply trying to gain attention for their developments by doing so.
But when local governments rush to do the same, that should be cause for concern, because it is their job to cut the overcapacity of heavily polluting industries and adjust industrial structures, which is the only sure way of solving the smog problem. When they pay too much attention to such towers, they might forget these responsibilities-we hope that's not the intention of the local governments near Beijing.