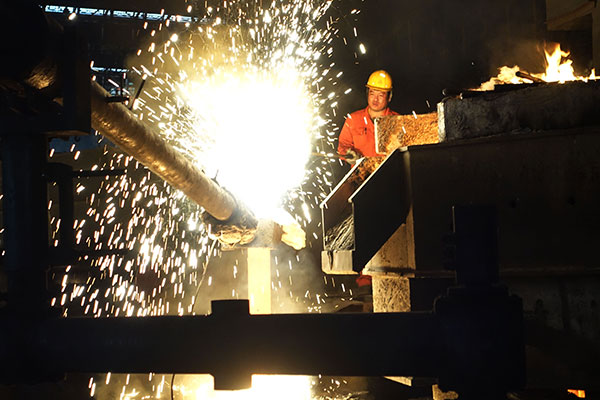 Workers at a steel factory in Dalian, Liaoning province. [Photo/China Daily]
Coordinated Development is the second of the Five Major Development Concepts, President Xi Jinping's guiding strategy to transform China's economy. In order to optimize economic development, both the efficient allocation of resources and equitable access to resources are essential.
Historically, from the beginning of reform, China's single-minded focus on economic growth, necessary at the time, generated inevitable problems-especially imbalances across geographies, sectors and classes-the disparities between urban and rural and between the eastern/coastal and western/inland regions. Moreover, economic competition among provinces and cities encouraged inefficient allocation of resources and exacerbated industrial overcapacity.
While China now recognizes that the market must play a "decisive" role, there are still issues, such as how to integrate diverse regions and how to rebalance urban and rural areas.
That's why the Chinese government has designated "Coordinated Development" as a prime policy to optimize economic transformation. Coordinated development means addressing and reducing diverse kinds of duplications and imbalances: it means different regions, especially adjacent regions, specializing in complementary not competitive industries and centers of excellence; and it means integrating the developmental planning of richer and poorer areas, such as rural regions of poverty on the outskirts of modern cities.
Nationally, coordinated development means comprehensive regional initiatives integrating multiple provinces and cities, such as the Yangtze River Economic Belt and the Beijing-Tianjin-Hebei province urbanized region. Internationally, coordinated development means the Belt and Road Initiative, involving more than 60 countries in infrastructure development.
In examining the Five Major Development Concepts for Closer to China with R.L. Kuhn, my weekly show on CCTV News (Sundays 9:30 am and 9:30 pm), I learned that a national example of coordinated development is the city of Luzhou in southwestern China's Sichuan province. I wanted to find out why.
Located at the intersection between Guizhou, Yunnan and Sichuan provinces, Luzhou was traditionally a marginal area. I met Luzhou Mayor Liu Qiang, who explained how the city has been transformed from a center for producing Chinese liquor (baijiu) into a prime coordinating center in the Yangtze River Economic Belt.
"Luzhou has incongruities," he said, "uneven urban-rural development, especially in education and health. Also, neighboring Yunnan province has poverty-stricken counties in its mountainous areas. We must invest, especially in technology and the training of personnel, and we are implementing the national mandate for 'precision poverty reduction'. The burden is heavy."
Luzhou is a major port on the Yangtze River and the largest in Sichuan. The Yangtze links half of China, and the Yangtze River Economic Belt connects nine provinces and two of China's major cities, Chongqing, the great western center, and Shanghai, China's economic engine on the sea.
Liu explained how Luzhou works with the megalopolises. "With Chongqing, we cooperate in tourism, agriculture, complementary industries and transportation interoperability. With Shanghai, we have agreements in science and technology and innovation-driven development, and we invite Shanghai companies to Luzhou."
Due to its geographic location, Luzhou decided to become a transportation hub-and at its center is the Luzhou port, which connects the city with the entire Yangtze River Economic Belt. Cargo goods from Luzhou can now reach the Republic of Korea via Nanjing in Jiangsu province, and Taiwan via Wuhan, Hubei province. Additionally, in 2011, the government spent 500 million yuan ($74.97 million) to build the first railway-river combined transportation system.
More than raw economic growth is required though. To improve standards of living in one of China's least developed regions, Luzhou's strategy is also to become a regional educational and health center.
Liu does not fear competition. "Competition is the driving force of development," he said. "I find competition good, even necessary. Besides, there is now more cooperation. For instance, Luzhou and its neighboring cities are coordinating infrastructure, industry, environmental protection, and various exchanges. Sichuan is signing agreements with Chongqing, Yunnan and Guizhou. We tell each other what we want, and where we need support. Since the Five Major Development Concepts were raised, the cooperation between provinces has been more and deeper."
Coordinated development is especially important in China where provincial rivalries have contributed to industrial duplications and overcapacities. Similar risks remain. The challenge is to get provinces and cities to cooperate as well as to compete in order to optimize development.
The author is a public intellectual, political/economics commentator, and international corporate strategist.