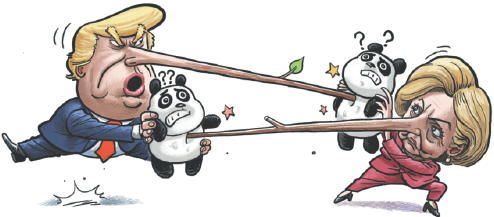 LUO JIE/CHINA DAILY
Before the first US presidential debate on Monday, quite a few American experts on China were upset that the two candidates, Democrat Hillary Clinton and Republican Donald Trump, had not talked much about the United States' broad policy toward China. They have been witness to the positive momentum in bilateral relations, yet they were troubled by the worsening strategic rivalry between the two countries.
Former US ambassador to China Winston Lord believes that even in the transition period, the president-elect should find someone very important to start talking with China in a bid to turn bilateral ties around. Orville Schell, director of the Center on US-China Relations at Asia Society, has suggested that former US president Bill Clinton take up the job if his wife is elected.
For many Chinese, the absence of China as a topic during the US presidential race may not be a bad thing, because candidates have for long used China as a bogeyman. Many still remember Republican nominee Mitt Romney in 2012 yelling and swearing in every speech that he would label China a currency manipulator on the first day in office if he was elected president. At one Republican primary that year, Jon Huntsman, a former US ambassador to China, was made to look the least relevant for US-China relations by his opponents.
That is how toxic the US presidential race is vis-à-vis China.
On Monday, Trump literally started his debate by criticizing China, accusing it of devaluing its currency. It only proves he is totally out of touch with the real world where the yuan has been facing a downward pressure from the market.
In fact, when I asked former US Federal Reserve chairman Ben Bernanke and former deputy national security advisor for international economics Caroline Atkinson on Sept 22 why the US government had got it so wrong just a year ago in thinking the yuan was still grossly undervalued, they both dodged the question.
During the presidential race, candidates focus on subjects they believe will please voters instead of engaging in rational debate. This is so true for this year when both candidates are disliked. Still, there has been plenty of rational and intelligent talk among China hands on a more sensible US policy toward China after the next administration takes office.
Testifying before the US Congress on Sept 22, George Washington University professor Amitai Etzioni said China and the US have many shared and complementary interests. Whatever differences exist between the two great nations, they can and must be resolved in a peaceful manner. He suggested a grand bargain between the two countries from cyber security to the Taiwan question.
Former US ambassador to China Stapleton Roy argued last week that the Barack Obama administration has based its East Asia policy on assumptions that are outdated. He believes East Asia needs a sustained and well-informed policy from the US administration no matter who wins the presidential election in November.
And the Navy Times, a US newspaper, has reported that White House National Security Council issued a directive recently asking Pentagon officials to stop using inflammatory phrases to describe US-China relationship, such as calling it a "great power competition". It said that by labeling the relationship a "great power competition", Obama administration officials inaccurately suggest the US and China are on a collision course.
NSC Senior Director for Asian Affairs Daniel Kritenbrink neither confirmed nor denied the Navy Times report on Tuesday evening when I checked with him. If true, it is a right move toward a healthier rhetoric which the important China-US relationship deserves, different from destructive declamations like "China should not write the rules, we should", as Obama likes to say.
The author is deputy editor of China Daily USA. chenweihua@chinadailyusa.com