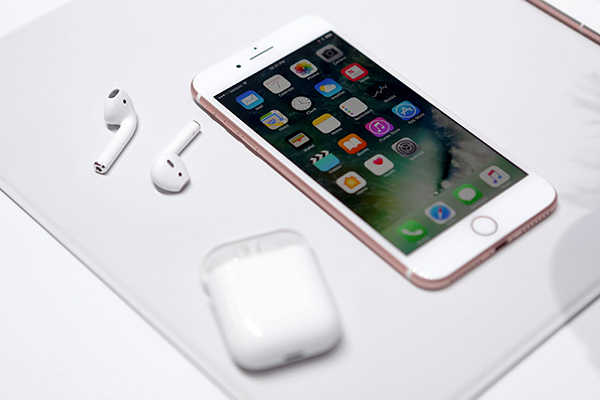 The Apple iPhone7 and AirPods are displayed during an Apple media event in San Francisco, California, US, September 7, 2016. [Photo/Agencies]
"TO ANY EMPLOYEE who buys an iPhone 7, come and quit your job." An open letter written by the owner of a company in Central China's Henan province to his employees has gone almost viral online. The administrative department of the company has confirmed the letter's authenticity, saying those who buy iPhones are "unpatriotic". A comment in Beijing Youth Daily questions the logic:
When the news first became public, many viewed it as a joke, although some irrational netizens said "no patriotic Chinese should buy an iPhone 7; they should buy Huawei instead".
Buying a foreign product does not make a person unpatriotic. And since China and the United States are interdependent economies and most iPhones are made in China, boycotting them will hurt Chinese industries and workers.
Some "patriots" might have their own economic theory and insist on boycotting products from the US and Japan. They have the right to not buy some foreign products. But the problem arises when somebody compels others to accept his/her views and act (or not act) accordingly, and threatens to fire them from their jobs.
That becomes a legal problem. By threatening to dismiss employees who buy iPhone 7, the employer has violated their rights of free consumption and the labor law.
The judiciary should intervene, instead of allowing him to go scot-free because he hides behind the cover of "patriotism". And there are others who believe in his skewed logic. Yet what such people propagate is not true patriotism.
Some of them boycott Japanese products by smashing Japanese cars purchased by their compatriots; a few even attack, both verbally and physically, those using Japanese brands.
By using violence against their compatriots, they also hurt the industrial chain in China. Since many brands already have a global presence and Chinese workers work for them, boycotting their products will hurt the latter.
Therefore, people should not boycott foreign products, because that has little to do with patriotism.