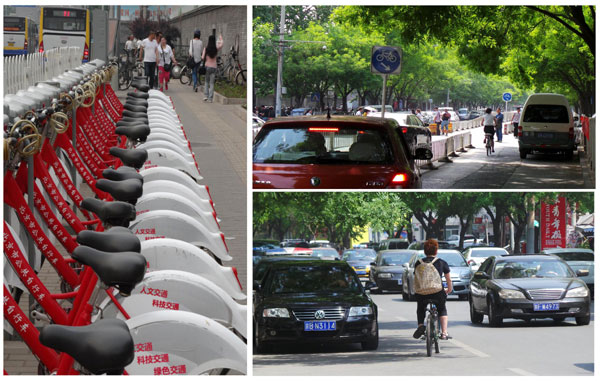 Public bike rental service, aimed at providing an alternative, low-carbon transport service to residents, was first tried in Beijing's Dongcheng and Chaoyang districts, which have high traffic flow, and the service was extended to Daxing and Yizhuang districts. [Photo/Xinhua]
Beijing has unveiled 10 major infrastructure construction projects for the next five years to address challenges faced by the overcrowded metropolitan area. The Beijing Times commented on Tuesday:
Beijing's newly-published five-year infrastructure development plan has shed light on green travel, vowing to build a network of 3,200 km of bike lanes, in a bid to better resolve the mega-city malaise featuring heavy traffic and worsened air quality.
According to the plan, drivers who park on the bike lanes will be punished and striking traffic signs will be installed on the roads to better protect cyclists.
Bikes were once a popular transportation choice for most Beijing residents, especially in the 1990s. Yet following the epic urbanization in the past decade or so, bicycle lanes seem to have gradually disappeared from Beijing's traffic network, with an increasing number of citizens choosing to commute by cars, a symbol of higher social status and growing wealth.
However, the side-effects are quite obvious. The capital has been haunted by heavy congestion and dramatically worsened air quality in the past few years, highlighting the need to promote green urban transportation Tthat is exactly what Beijing's new infrastructure development plan seeks to achieve.
An encouraging fact is that more than 400,000 public bike rental cards have already been issued in Beijing, and the bikes can be rented about 300,000 times per day. Once completed, the 3,200-km network of bike lanes should add more impetus to the promotion of bike riding, a long tradition in the city.
Riding a bike, to a point, is more like a lifestyle than a way of commuting. It is also much cheaper than driving and can serve as a free gym on wheels, which can be bringan effective cardiovascular benefits. An advanced bicycle lane network will definitely make cycling safer and air cleaner for every citizen, along with improved rail system and public transport.