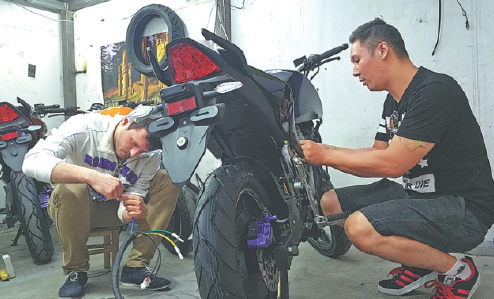 Nathan Siy (right), a Canadian-born passionate motorcycle rider and CEO of Evoke Motorcycles, works together with his employee to fix a motorcycle. [Photo provided to China Daily]
Electric bicycles are likely to become increasingly popular in China, thanks to their convenience, affordability and low environmental damage.
Canadian-born Nathan Siy is a passionate motorcycle rider who four years ago spotted an opportunity to develop premium and high-powered electric bikes for the Chinese market.
"In China, electric bikes are a big phenomenon," said Siy, CEO of Evoke Motorcycles. "However, most e-bikes here belong to the low-end segment, while faster and more powerful alternatives are difficult to find."
For this reason, the entrepreneur set up Evoke in Beijing to design an e-bike that could resemble a gas-engine motorcycle, in terms of weight, performance and acceleration.
The company has spent almost three years designing its Urban S bike, an electric motorcycle that can speed up to 130 kilometers per hour, incorporating a battery that can power a 170-km ride.
Last year, the startup started selling its bikes on a small scale for 50,000 yuan ($8,000) each using an artisanal or non-mechanized manufacturing process.
"Our engineers are building around three to four bikes every month and there is a waiting list to receive the bikes," said Siy. "Our main problem is that we struggle to keep up with the orders."
Evoke, which has already secured two rounds of financing from local Chinese angel investors, is now looking to receive further investment in the next seven months to enter the mass-production phase.
"We expect to surpass the 50-unit mark next year or two later," said Siy. "However, if we manage to get the right partner, we can probably reach the industrial stage within two months."
That may well become necessary as the market for electric bikes is growing fast in China.
By 2020, the number of electric bicycles in China is expected to increase to 276.26 million from 199.8 million units in 2015, according to international consultancy Frost & Sullivan.
Retail sales of electric bicycles are estimated to grow to 124.73 billion yuan in 2020 from 82.19 billion yuan in 2015, said the consultancy.
"Demand for electric bicycles will keep increasing in China, due to continuous urbanization," said Neil Wang, global partner and China president of Frost & Sullivan.
According to Siy, the motorcycle market has traditionally been dominated by companies like Harley-Davidson but these brands are losing appeal as the younger generation of riders prefers high-tech and low-emission products.
High-tech here would mean Evoke's automatic response system that connects the bike with the company's server in case of an accident.
Evoke is also working on high-tech special gear such as helmets and jackets with sensors linked to the bike so that they can collect critical information in the event of a crash.