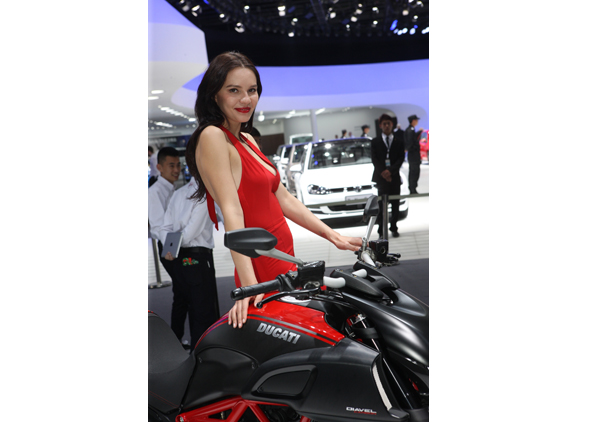 A model stands beside a Ducati motorcycle during a recent motor fair in Beijing. Ducati is bringing more of its models to China. DONG NING/FOR CHINA DAILY
There are few things Laura Wu likes more than to take her Ducati 899 Panigale for a spin on the country roads outside Beijing. With five other high-performance motorcycles in her garage, the 35-year-old represents today's Chinese biker who manufacturers are clamoring to please.
With China's motorcycle market in decline, makers of superbikes, including Ducati Motor Holding SpA and Harley-Davidson Inc, are adding lighter, sleeker and less powerful models to their offering, trying to appeal to well-heeled novice riders and, especially, women.
The strategy seems to be working. Motorcycle sales in China almost doubled for Ducati and surged 74 percent for BMW AG in the first half from a year earlier, defying a 15 percent slide in all new bike sales, according to the China Association of Automobile Manufacturers. The country is poised to become the second-biggest for Ducati in three years.
"We used to assume motorcycles are toys either for middle-aged paunchy men or for young street hoodies," said Wu, who often zips around Beijing on a Vespa scooter for her daily commute to work as an angel investor. "Riding a motorcycle can also be a symbol of the independence of women."
Ducati, founded in the Italian city of Bologna 90 years ago and now owned by Germany's Volkswagen AG, was keeping women and first-time motorcyclists in mind when it introduced in China the Scrambler Sixty2, which has a 399-cubic-centimeter engine, and the 1,198-cc Multistrada 1200 S this year, Marco Elli, head of Ducati China, said in an interview.
Ducati is bringing more of its models to China as biking gains popularity as a form of recreation. The government last month said it will exempt foreign motorcycle makers from ownership limits in their manufacturing operations. While more than 170 cities in the Asian nation have banned or restricted motorcycles, some smaller cities, such as Zhuhai and Langfang, have been easing regulations since 2013.
Ducati sold almost 1,000 units in the first five months of 2016, spurred by demand for Monster, Diavel and Scrambler models, Elli said, adding that he expects China to surpass Thailand this year to become Ducati's biggest market in Asia, excluding Japan.
The Scrambler will be priced at 83,800 yuan ($12,600) and target young riders, while its highest-end superbike that sells for as much as 489,000 yuan will be aimed at middle-aged bikers with higher incomes, he said.
"We understand the motorcycle culture here is growing," Elli said inside a Ducati showroom in Beijing. "The interest in riding a bike goes beyond the bans, and people who buy a bike may anyhow find a way to ride wherever it's possible."
The restrictions, coupled with a preference for cars and electric bicycles, have caused China's motorcycle market to shrink. New motorbike registrations fell to an estimated 7.6 per 1,000 people last year, from almost 13 per 1,000 people in 2009, according to market researcher Mintel Group Ltd. In contrast, per-capita registrations in India more than doubled and are predicted to be three times greater than China's by 2018, Mintel said.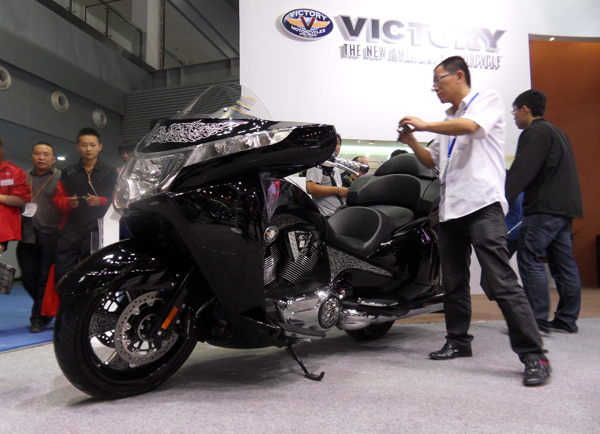 A man takes photo of a Victory-branded motorcycle during an auto show in Chongqing. ZHOU HUI/FOR CHINA DAILY
China's motorcycle industry, which is estimated to be worth 380.7 billion yuan in 2016, will experience "a wave of consolidation" over the next few years, as low-scale regional manufacturers will be forced out of business by shrinking domestic demand, Euromonitor International predicted in a report in May. While a motorcycle ban in large cities has depressed sales, an "emerging and vast middle class fostered the premium motorcycle market," the market researcher said.
The country imported 234,000 motorcycles last year, 88 percent more than in 2014, according to the automobile manufacturers' association. More than half the foreign bikes were powered by 400-cc or larger engines. Harley-Davidson introduced its Street 750 model in China last year.
"The market of big-displacement motorcycles has great potential, with the living standards of Chinese people picking up quickly and the leisure demand increasing," said Wang Dong, a researcher in the association's motorcycle division. "If the motorcycle bans and restrictions can be removed, as we are urging the government to do, the market shall see a big jump."
For now, the curbs are especially hurting companies supplying the mainstream market. Motorcycle sales in China fell 31 percent last year for Yamaha Motor Co, which sells mostly smaller street bikes in the nation, and dipped 4 percent for Honda Motor Co, according to the companies.
"We don't have any plan to increase our luxury models for now," said Sanae Tanaka, a spokeswoman for Honda.
Yamaha is focusing more on India than China, and sells only a small quantity of luxury motorcycles in China, said Kenji Otsuki, a company spokesman.
Motorcycles have been perceived as pariahs on China's roads, blamed for everything from traffic snares and pollution to motor vehicle accidents and a spike in hand-bag snatches. Some cities have banned them from downtown streets and imposed restrictions on highways and main roads, while others have stopped issuing new license plates.
Beijing bike enthusiast Laura Wu had to pay as much as 85,000 yuan to put a license plate on her motorcycles. She bought the plates from other owners, as China's capital hasn't allowed registrations of new motorcycles in its downtown area since 1985.
The restrictions are effectively stoking demand for luxury motorcycles, according to Zhang Zhiyong, a Beijing-based independent analyst who writes columns for Phoenix Auto.
"Given that a plate in cities like Beijing and Shanghai can cost as much as 100,000 yuan, it naturally cultivates a group of motorcycle owners who prefer premium bikes to go with the expensive plates," Zhang said.
Bloomberg