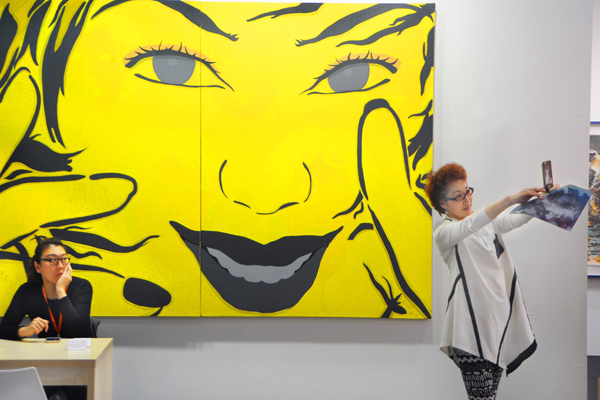 A visitor takes photos at the Shanghai Art Fair held in Shanghai, Nov 13, 2015. [Photo/VCG]
Supply-side reform and austerity drive have put paid to irrational prices, promising market recast for future growth
The ongoing supply-side reform has injected a much-needed dose of reality into China's hyped-up artwork market, experts said.
Not just paintings, drawings and antiques, even ornate furniture, old fine teas, precious commodities and rare crafts are part of China's artworks.
Ren Helei, a researcher at the Center for Soft Power Studies at Peking University, said: "The supply-side structural reform provides opportunities for the artwork market in China, and it leads overly high-priced products to return to rational prices. This should be the growth trend of the market."
Last November, the government proposed supply-side reform, which aims to raise the quality of products, better allocate resources and stabilize economic growth.
Little did people realize then that the initiative will have a bearing on the artwork market in China, which has shrunk steadily in recent years.
Some precious goods that boasted irrationally high prices due to market frenzy, are now witnessing huge price drops as a result of dampened demand and fewer investments.
In 2015, the turnover of the Chinese art auction market reached 50.6 billion yuan ($7.6 billion), dropping 20 percent over the previous year.
The volume of transactions in auctioned goods also saw a retreat, according to a report by Beijing-based Art Market Monitor, which is affiliated to Shenzhen-based printing company Artron.