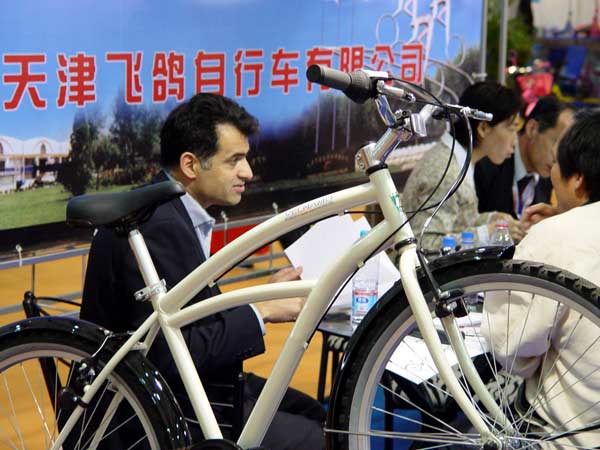 A European businessman talks with Tianjin Flying Pigeon Co Ltd representatives for possible cooperation during an industrial exhibition in Tianjin. YANG MINGJING/FOR CHINA DAILY
Fan Fengqiang, a 26-year-old in Beijing who owns a garment store, recently bought the Buzzard, a smart sports bicycle for 5,999 yuan ($895). The made-in-China Buzzard is so smart that Fan now uses it not only for exercise but to commute to work.
The bike, made by Tianjin Flying Pigeon Co Ltd in collaboration with LeSports, has a number of built-in smart devices that monitor in real-time not only his speed but blood pressure, heart rate, calorie consumption and other aspects.
"LeSports provides the smart functions' design while the 80-year-old Tianjin Flying Pigeon incorporates them in the bike," said Li Dalong, vice-president of LeSports.
Flying Pigeon hopes the Buzzard can work as a "flying hawk".
According to the Shanghai University of Sport, there were 6 million sports bike enthusiasts in China by the end of 2015.
According to data from AliCloud, a subsidiary of Alibaba Group, the number of sports bike users has already grown 20 percent this year. Users of sports bikes priced more than 5,000 yuan ($758) each have increased by 10 percent.
Fan, a bike enthusiast for four years, is one of 500,000 of his ilk in China. "Some friends ask about it the first time they see it. Then, after knowing its smart functions, they say they want to buy one. Strangers always strike up a conversation with me about it when I stop at a red light on roads," said Fan.
Such bikes have attracted the attention of even Premier Li Keqiang. He visited an outlet of Flying Pigeon in Tianjin during the Summer Davos Forum in June.
The premier test-rode a top-end smart bike. Impressed by its design and features, he assured support for global promotion of such Chinese products.
The Buzzard series has three models for city roads priced 3,999 yuan, 5,999 yuan and 39,999 yuan respectively.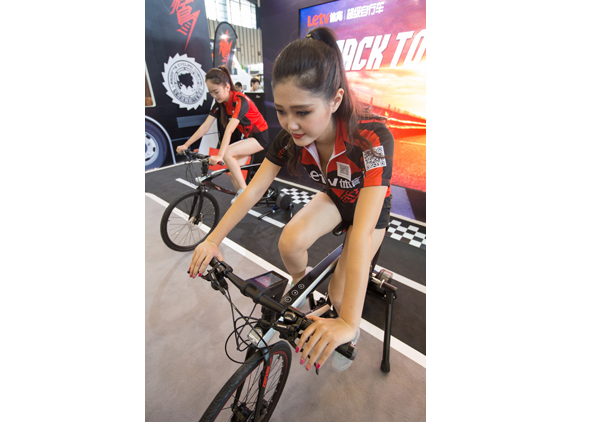 Two women experience made-in-China smart bicycles in Nanjing, Jiangsu province. SU YANG/FOR CHINA DAILY
The 3,999-yuan model is made of lightweight aluminum alloy. The other two models are made of carbon fiber. The most expensive one, which Li test-rode, is equipped with Shimano XTR's drive train.
Fan bought the mid-range model. "It is not expensive compared with a good road bicycle. Its configuration can record all basic riding data like speed, distance and heart rate of the rider," Fan said.
Making such bikes has been a gradual process for Flying Pigeon. Zhang Jinying, president of the company, said Flying Pigeon has been through three critical phases in its evolution into a top-end bike-maker.
As a veteran who has been with the company since 1986, she has seen them all. According to her, the first phase was in 1990s, when China kicked off its economic reform and shifted towards a market-oriented economy.
The second phase started in 2013 when the company established a bicycle industry park in Jinghai district of Tianjin. Advanced production equipment and a professional team helped the company to upgrade its technology and management.
"The third phase began with our cooperation with LeSports to produce the Buzzard series. The smart bikes are viewed as an industry benchmark, and helped create for Flying Pigeon a new brand image of an intelligent bike producer. That is a big transformation for the old brand," said Zhang.
Flying Pigeon has more than 2,000 employees and produces more than 2 million bikes a year. Now, it has three main categories of bikes: classic models, retro models and smart bikes, which appear in nearly 200 designs.
"The big data we accumulate helps us to customize the smart bikes. We'll use consumer feedback and consider making mini smart bikes to meet female riders' needs, mountain smart bikes and road smart bikes, so on," said Zhang.
The Buzzard debuted in the market last August. Since then, it has inspired copy-cats to come out with similar products. Yet, Li of LeSports is confident the company's products will prevail.
"We established a riding community with a built-in system called Bike OS and a smartphone app. It's our core competence. It's possible to make a bike, but it's difficult to build a bike-riding eco system," he said.
"Our smart bikes are tapping into overseas markets this year. We're building sales networks in North America, the European Union, Japan and South Korea. Foreign customers will be able to buy the bike soon on our overseas online shopping site LeMall."