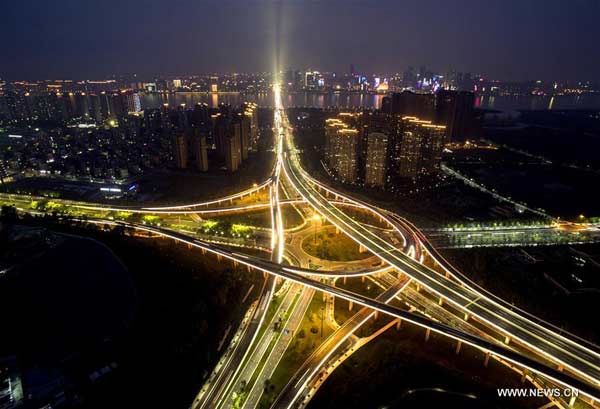 File photo taken on May 24, 2016 shows an aerial view of expressways linking Hangzhou Xiaoshan International Airport at night in Hangzhou, East China's Zhejiang province. Hangzhou is the host city for the 2016 G20 summit on Sept 4 and Sept 5. With one month to go, Hangzhou looks forward to G20. [Photo/Xinhua]
MOSCOW - The 2016 Group of 20 (G20) summit to be held in the Chinese city of Hangzhou in early September will give the country a great chance to present and promote its ideas on global development, a Russian expert has said.
China's "One Belt One Road" initiative, which aims to promote infrastructure construction in countries along its way and push forward the economic development of the whole region, would be a key discussion at the summit, said Alexey Maslov, head of the Oriental Studies Department at the Russian Higher School of Economics Research.
"I think the debate will be more about the ways of developing the infrastructure ... about who will be the leader of infrastructure restructuring," he told Xinhua in a recent interview.
Maslov also suggested that China should find its own approach on promoting its idea of a green economy, which is not only environmentally friendly, but also free from corruption and from any external influence.
"China is doing the right thing, by not just defending itself from alleged charges (of non-compliance with environmental regulations), but creating its own concept and inviting others to join," he said.
The discussion on green economy should also be concentrated on countries' investment capacities and the sustainable growth of the world economy, especially considering the current complex and multilateral economic crisis, Maslov said.
The expert hoped the G20 summit would consider methods to stimulate the economy, facilitate foreign trade, remove customs barriers, and promote interaction between countries in creating free trade zones or common development zones.
Maslov said the G20 summit could lead to greater freedom of trade and play a more responsible role in resolving global economic problems, adding that technology transfers should also be facilitated among countries.
According to Maslov, it is more important for the summit to "show that countries share common concerns and see common problems and trends," rather than providing final solutions.
He stressed that the G20 summit has to become a real working body, not just a platform for discussion.
"How China will be able to consolidate the views of different parties is a great question and a great responsibility," he said.
"Perhaps, only China is capable in today's world of making different countries with different methods of regulating economies to sit at the negotiating table, to make them try and work out a common solution," said Maslov.
By implementing a "fairly correct" model of economic structural reform, China has proved its strong political will to the world, he said.
"But the state of the economy, both Chinese and Asian in general, requires the most rapid implementation of these reforms," Maslov added.