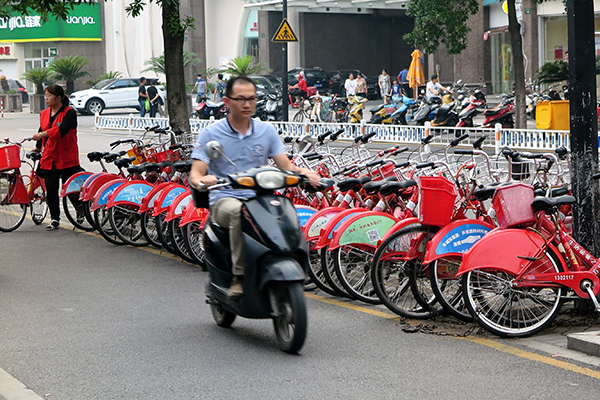 Public rental bicycles are available to foreign visitors in Hangzhou, with help of an audio system in English. [Photo/China Daily]
Getting ready to welcome foreign visitors to the G20 Leaders Summit in September, Hangzhou, capital of Zhejiang province, is updating its public bicycle rental facilities with improved functions and more thoughtful services.
A total of 2,500 bicycles emblazoned with the G20 logo have been put into service since July 8 at service points around the city.
Certain parts have been improved for safety and convenience. For example, parking brackets are made of stainless steel to be rustproof for long-term use. Every key for its matching bicycle has its own printed code, which is also stored in an online database. An extra reflector has been installed at the back of the bike saddle to enhance safety during night riding.
"More updated bicycles providing a safer and more comfortable cycling experience will appear on the streets ahead of the G20 summit, while the old baskets will be replaced with new ones made of aluminum," said Wu Guoxiong, deputy manager of Hangzhou Public Bicycle Transportation and Service Development Co.
To provide international-level service during the summit, the company is working hard to make improvements.
During the summit, the company will introduce a specially designed rental card with Hangzhou's cultural and scenery elements that will enable foreign guests to ride bicycles around the city. An audio system in English will be available at some service points to help foreigners rent and return bicycles. The hotline of the public bicycle service will also be able to answer phone calls in English.
A total of 370 public bicycle service points within the major road system where hotels and meeting venues are located will be equipped with bilingual notices.
Staff members of the company have participated in 12 types of training, including English lessons, with an average of three times per person. They also have received a small handbook of 100 common English sentences, as well as cards listing the management standards for the G20 summit public bicycle service points.
Since the city's public bicycle transportation service system began trial operations in May 2008, a total of 84,100 bicycles have been rented 665 million times. In 2015, public bicycles were rented over 310,000 times in average every day.
The public bicycle in Hangzhou has become an essential part of daily life for local residents.
"I have a car, but I still rent and ride a bicycle from the service point close to my home to the subway station at least three days per week, as it avoids traffic jams," said Yang Yi, a city government worker.
She added that many locals use the public bicycles in the downtown area and drive cars only for long-distance trips.
The concept of public bicycles spread from Hangzhou to 30 provinces and 175 cities nationwide, including Taiyuan, Shanxi province and Tacheng in the Xinjiang Uygur autonomous region.