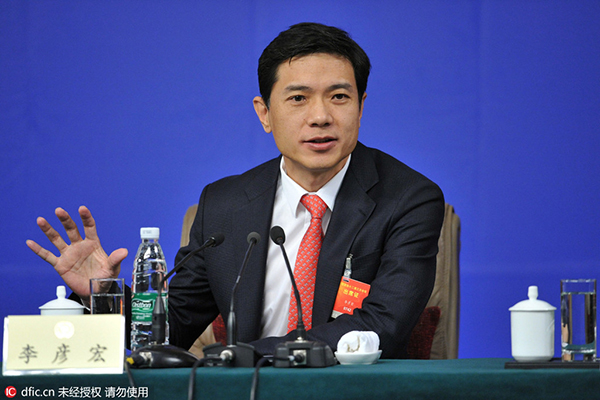 Robin Li, CEO of Baidu Inc. [Photo provided to China Daily]
Task force chief says members of global group should establish technology sharing platform
The employment task force of the Business 20 summit will urge G20 leaders to set up a fund for creative activities to accelerate the pace of transferring research and development achievements into new market growth points in September, said the task force's chairman.
Robin Li, the task force's chairman and CEO of Baidu Inc, said with strong economic and research foundations, G20 countries are capable of achieving more major breakthroughs in terms of technological development, creating a number of jobs and businesses with innovative activities.
As the top executive of the country's largest search engine, Li said G20 members should establish a technology-sharing platform to better connect information providers and users.
"Based on the model of a sharing economy, the platform can assist member countries in trading their equipment, computational storage, data resources and innovative achievements without difficulties, as well as help businesses seek either the technologies and products they need for further development," said Li.
The B20 is a major supporting facility for the G20. Through task force meetings and summits, the B20 collects the opinions of world business leaders and develops a consensus. It will provide policy recommendations to the G20 Summit in Hangzhou, Zhejiang province, in September, contributing to the G20 leaders' decisions.
Eager to participate in more cross-industry businesses, Baidu has already made moves in the auto industry by partnering with traditional carmakers. It has been focusing on autonomous driving and successfully completed the first road test of a self-driving car last year.
The Chinese internet giant plans to commercialize its cars in three years and enter mass production in five years.
"Employment has always been one of the core topics of G20 dialogues and the B20 also concentrates on this issue," said Yin Zonghua, vice-chairman of the China Council for the Promotion of International Trade.
Facing a complex global economic setting, Yin said all countries are interested in how to create more job opportunities, improve job quality and achieve more sustainable and balanced economic growth.
About 15 million young people, most of whom are college graduates, are seeking employment in cities every year, during China's 13th Five-Year Plan (2016-20). The pressure lies in both recruitment and employment, data released by the Ministry of Human Resources and Social Security said earlier this month.
The Chinese government had canceled 319 employment qualifications, accounting for 52 percent of the total number in the country. About 70 percent will be canceled by the end of this year.