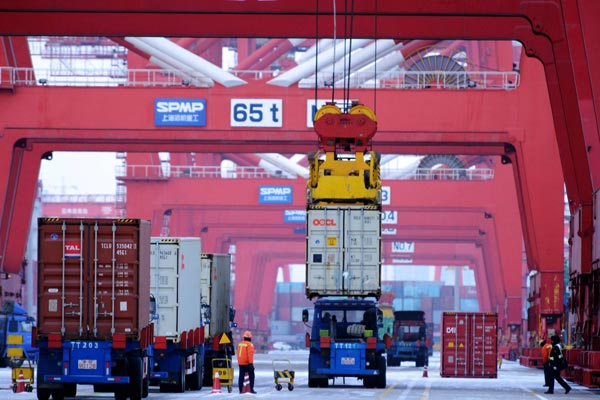 A ship loads containers at a terminal in Qingdao, Shandong province. [Photo/China Daily]
China encountered 65 trade-remedy investigations launched by 17 countries and regions in the first half of 2016, surging 66.67 percent on a year-on-year basis, the Ministry of Commerce said on Tuesday.
Shen Danyang, spokesman for the ministry, said even though the rise of trade protectionism is not the fundamental reason for the prolonged global trade slowdown, it certainly is a factor.
The 65 cases, including 46 anti-dumping investigations and 13 countervailing cases, were launched by both developed and developing countries such as the United States, Brazil, Turkey and Malaysia during the six-month period.
Among them, the United States and India took the lead in initiating trade-remedy measures between January and June of this year, with 18 and 15 cases respectively against Chinese products including steel, agricultural and photovoltaic products.
A total of $8.54 billion had been involved in these cases, up 156 percent year-on-year.
"After all, trade disputes between China and major economies such as the US or the European Union are set to grow and become more complex in view of the huge trade flows. There might be more fights over the rules and standards affecting trade flows in the second half," said Chen Weidong, a professor of global trade at the University of International Business and Economics in Beijing.
Eager to find a way out, Liaoning-based Ansteel Group opened a new steel plant in May for high-end steel products used in auto and home appliances manufacturing as the steelmaker seeks to improve its product offerings amid oversupply of low-end steel and weak demand.
The new plant, based in Guangzhou, capital of southern China's Guangdong province, is part of a joint venture Ansteel formed with Guangzhou Automobile Group Co and ThyssenKrupp AG to tap into steel demand from automakers.
Yao Lin, Ansteel's vice-president, said the first stage of the plant cost $230 million and aims for annual production of 450,000 metric tons of steel plates used in vehicles and high-quality home appliances.
Trade ministers from G20 countries reached a consensus on strengthening the multilateral trading system earlier this month in Shanghai.
They also made a commitment that G20 members will all approve the Trade Facilitation Agreement before the end of the year, and will also continue to promote negotiations on the remaining issues of the Doha Round.