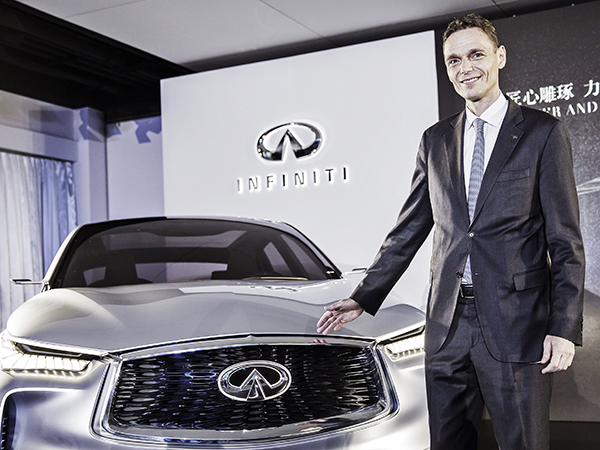 Roland Krueger, CEO of Infiniti Motor Co, at the unveiling of a concept vehicle ahead of an auto show in Beijing. [Photo/Agencies]
Nissan Motor Co's premium Infiniti brand, which lost its China head to a startup and saw deliveries slump in the country, will regain growth in the world's largest auto market in the second half of the year, said its top executive.
Growth momentum in China will pick up as it resolves a supply issue and introduces the new QX30 crossover at the end of this year, said Infiniti President Roland Krueger.
"We are looking at huge potential, still, for Infiniti," he said. "We need to tap into that."
Nissan's premium brand, which set up its headquarters in Hong Kong in 2012 to be closer to the Chinese mainland market, has to do better if it's to help Chief Executive Officer Carlos Ghosn achieve his target of capturing 10 percent of the global luxury car market by 2020. The sales slump follows the departure of Daniel Kirchert, who helped more than double sales of the marque in the mainland before he joined a Tencent Holdings Ltd-backed electric-car startup this year.
Infiniti suffered from a lack of brand power and new products, especially as German premium brands introduced a string of competitive offerings, according to John Zeng, a Shanghai-based LMC Automotive analyst, who cited the BMW X1 and X3, and the Mercedes GLA and GLC.
"The German brands have a lot of rabbits in their hats," said Zeng. "Second-tier luxury brands like Infiniti face a lot of pressure under such a market environment."
Bloomberg