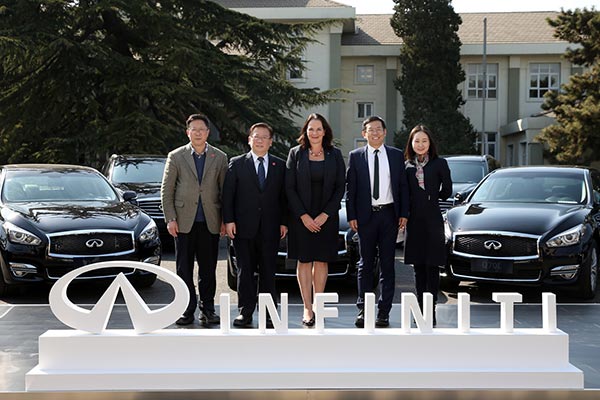 Infiniti delivers its fleet of vehicles to the organizer of the China Development Forum 2016. [Photo provided to China Daily]
To demonstrate its long-term commitment of contributing to Chinese society, Infiniti has been a sponsor of the China Development Forum for three consecutive years.
Roland Krueger, president of Infiniti Motor Co Ltd, and the only speaker from the premium auto sector at the high-profile political and economic event, shared the company's thoughts and plans about autonomous driving.
At the event, themed "The Internet and Future Technologies" and held on March 19, Krueger explained Infiniti's concept of autonomous driving and how it differs from the driverless cars proposed by tech giants like Google. He said people are front and center of autonomous driving, which offers more enjoyable rides.
"We do not believe in driverless self-driving vehicles. Hence, our autonomous technologies will offer a choice, alternatives and assistance to the driver and ultimately make him or her an even better driver.
"We are convinced that driving should be a fun activity as much as possible, and people will want to enjoy an exhilarating ride. This is why we don't want to take the driver out of the equation."
Krueger said safety is the biggest reason why autonomous vehicles are being so vigorously pursued. Infiniti, as a member of the Renault-Nissan Alliance, has the ambitious goal of moving closer to a zero-fatality future for car transportation.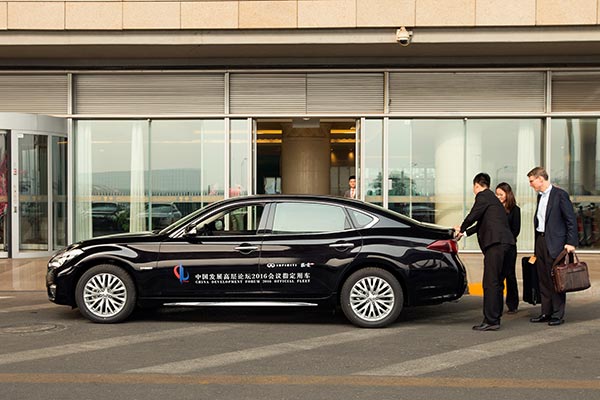 The Infiniti Q70L hybrid is an official service car for the China Development Forum 2016. [Photo provided to China Daily]
He said autonomous driving promises to greatly reduce on the number of fatalities and injuries by virtually eliminating driver error, which is responsible for 93 percent of all traffic fatalities today.
"The Infiniti Q50 is one of very few vehicles on the market today that can be driven semi-autonomously by utilizing our direct adaptive steering technology, the world's first production steer by wire system that uses advanced electronics to streamline the steering mechanism, providing new levels of control, precision and adaptability," he said.
Krueger added that Infiniti will offer a number of cars featuring autonomous technologies over the next few years. Its parent company, Nissan, is one of the first companies to announce a long-term strategy for autonomous driving.
Later this year, the Renault-Nissan Alliance will begin selling vehicles with "single-lane control", which will allow the cars to drive autonomously and safely in heavily congested traffic on highways.
In 2018, its cars will have "multiple-lane control" to autonomously negotiate hazards and change lanes during highway driving. More advanced autonomous-driven cars that can navigate city intersections without driver intervention will hit the market by 2020.
This was the third consecutive year for Infiniti to support the forum, and the second consecutive year to be the forum's only vehicle provider.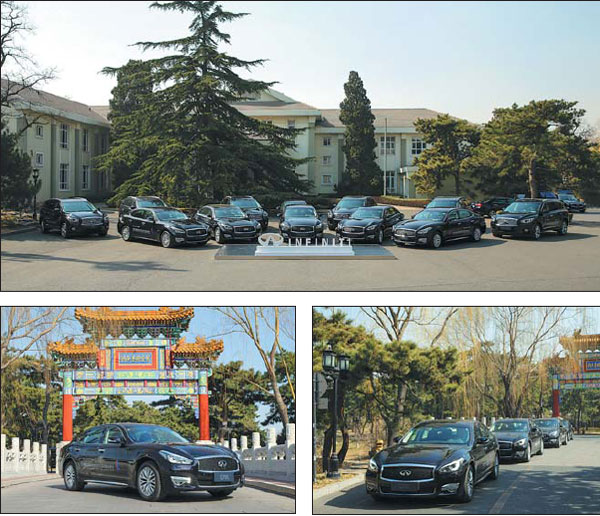 Infiniti has sponsored the China Development Forum for three consecutive years. [Photos provided to China Daily]
Initiated in 2000 and hosted by the State Council's Development Research Center, the China Development Forum has played an important role in China's policy exchange and collaborations with the world.
The forum this year was held at the Diaoyutai Guesthouse in Beijing from March 19 to 21.
The forum also featured hightech moguls such as Facebook CEO Mark Zuckerberg, Alibaba Chairman Jack Ma, Xiaomi CEO Lei Jun and Uber CEO Travis Kalanick.
"As a young, passionate premium automaker, Infiniti is keen to be a provider of quality, sustainable trip solutions. Our participation in the China Development Forum over the past three years shows our long-term commitment in China," said Gaby-Luise Wuest, the former president of Dongfeng Infiniti and managing director of Infiniti China.
This year, Infiniti provided 15 of its QX60 Hybrid and Q70L Hybrid cars to the forum as VIP shuttle cars.