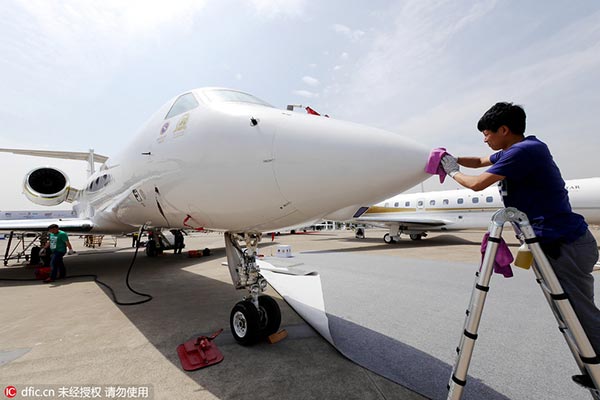 A worker cleans the nose of a business jet on display ahead of the 2016 Asian Business Aviation Conference and Exhibition (ABACE 2016) at the Shanghai Hongqiao Airport in Shanghai, 11 April 2016.[Photo/IC]
SHANGHAI - Business aviation in China, the largest market in the Asia Pacific region, is now in "cruise mode" with growth slowing.
"Changes are in the air. In aviation terms, China's business aviation industry has entered long-range cruise mode after going full speed and ascending rapidly in recent years," said Charlie Mularski, chairman of the Asian Business Aviation Association (AsBAA).
He made the remarks at the 2016 Asian Business Aviation Conference and Exhibition (ABACE) in Shanghai.
The annual ABACE in April is seen as a weather vane of the region's business aviation market.
China's business aviation fleet numbered about 300 last year. That was up 5 percent year on year, but slower than the double-digit growth of previous years before 2014.
In the Asia-Pacific region, including China, the three major business aircraft manufacturers in the market are the Bombardier, Gulfstream and Cessna.
Calming market
"We're confident that business aviation in Asia and China will continue to grow, perhaps at a slower pace, but still growing," said Mularski.
Industry insiders at the ABACE show generally agreed that China's prospects remain positive, although the industry is particularly sensitive to the nation' s economic vitality and policy environment.
"The market needs to calm down after years of irrational expansion, and get on the track of healthy development," said Kevin Wu, AsBAA vice chairman and Textron Aviation vice president of international sales for greater China and Mongolia region.
Wu noted the industry in China is still in its infancy compared with European and American markets.
Global major business aircraft manufacturers participated in the ABACE event with a greater range of aircraft than ever.
Textron Aviation announced it will boost its strategy of localization to better cultivate the Chinese market. Textron subsidiary Cessna launched a joint venture in China in 2013 and witnessed an 80-percent increase in sales of its Cessna 208 Caravan, a single-engine short-haul utility aircraft.
Bombardier has completed about 90 percent of a new maintenance plant with Chinese partner Tianjin Airport Economic Area and strengthened its support network in China.
Business high flyers
Business aviation arrived in China in the mid-1990s and took off as executives realized how it could save time getting around the vast country, but it also raised popular ire in some quarters with users being accused of flaunting their wealth.
China's economic slowdown affected the industry, which was still producing orders placed in previous years.
The government's anti-corruption campaign caused further effect as officials eschewed symbols of privilege.
However, Asia, especially China, is creating more high net worth individuals than any other region in the world. The main users and owners of business aircraft want to grow their businesses beyond local markets.
"More Chinese companies are expanding or cooperating abroad, which requires frequent and timely meetings," said Jason Liao, chairman and CEO of China Business Aviation Group. Entrepreneurs and other leaders in their fields must be efficient to succeed against brutal competition.
"A business plane is fast and comfortable, but it's not necessarily a luxury big one," said Liao.
Chinese buyers used to prefer aircraft with larger cabins, wide bodies and longer range, but now are growing accustomed to charter services or buying aircraft according to their practical requirements. A second-hand market is also growing.
Smarter buyers
Vanity purchasing -- or conspicuous consumption -- is less noticeable than in previous years, say insiders.
"They are more concerned about product value, and are more rational and mature in selecting a suitable model," said Guan Dongyuan, senior vice president of Brazil's Embraer and president of Embraer China.
A new phenomenon is emerging, said Khader Mattar, vice president of sales in Middle East, Africa, Asia Pacific and China for Bombardier.
"Compared with their foreign peers, Chinese buyers rapidly master super bargaining skills, and are becoming smarter and more professional," said Mattar.
They are no longer eager to get a plane as soon as possible, preferring to wait for the right conditions. "They are more patient and professional," said Mattar.
However, Chinese entrepreneurs still have difficulties using business aircraft. Operating costs in China -- including maintenance, airport and flight charges -- are among the highest in the world.
Moreover, airspace usage and insufficient ground support, such as airports and fix-based operations, all hamper the use of business aircraft.
The government has committed in its 13th five-year plan to build 50 major airports, mainly in less-developed central and western regions, to boost its transport network. It is hoped the business aviation market will become more flexible as the country' s civil airports approach 500 in number.
"In the next 10 years, China will be a dynamic sector in the global business aviation industry," said Wu. "Visionary industry insiders are already mapping out the market."