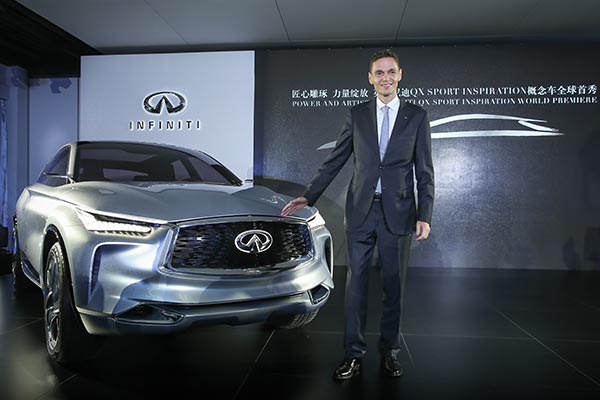 Krueger introduces the QX Sport Inspiration.[Photo provided to China Daily]
With the world premiere of its QX Sport Inspiration concept car in Beijing on Saturday, Infiniti signified its expansion into the midsize sport utility vehicle market - one of the world's largest and fastest-growing premium segments.
Themed "Power and Artistry", the event was held two days before 2016 Beijing International Automobile Exhibition, the country's most important auto event of the year.
With its taut lines, muscular haunches, high visual center of gravity, long bonnet and raked, couple-like silhouette, the QX Sport Inspiration is inspired by "Power and Artistry" and bears the brand's design hallmarks: the signature double-arch grille, focused "human eye" headlamps, "crescent-cut" C-pillar, and the masculine but fluid body sculpting.
Flowing lines and advanced craftsmanship characterize the spacious and beautifully appointed interior, which follows Infiniti's "driver-centric, passenger-minded" approach to cabin architecture. The interior's color palette, which is predominantly black and white with flashes of the leather's natural color, is striking yet harmoniously blended through careful use of line, form and texture.
"The QX Sport Concept opens a daring new chapter in Infiniti's SUV story and showcases the developing design language and engineering execution of Infiniti's future SUVs," said Roland Krueger, president of Infiniti.
Infiniti boasts a history of strong SUV design. The pioneering Infiniti FX45, launched in 2003, set the standard for sporty SUVs over the next 10 years. Regarded as the world's first midsize multi-purpose sports vehicle, the FX is still considered iconic in design. In an increasingly crowded and popular market segment, the QX Sport Inspiration seeks to build on Infiniti's SUV heritage and generate excitement for the brand.
"The QX Sport Inspiration comes at a time when Infiniti continues to expand its product portfolio globally into new and popular segments. We design concept cars with true production potential, and the QX Sport Inspiration offers a vision of how Infiniti could bring something exciting and new to the midsize SUV segment," said Francois Bancon, vice-president of product strategy at Infiniti.
Alfonso Albaisa, executive design director of Infiniti, said the QX Sport Inspiration has a more flowing, natural aesthetic than traditional premium SUVs.
"It expresses power and purpose through what we describe as its 'proportional clarity', with an elegance that is uniquely Infiniti. The exterior design will appeal to an artistic sensibility."
The concept promises off-road versatility, aided by its raised, 230 mm ground clearance, as well as the empowering, in-control onroad driving characteristics and cruising comfort that is expected of any Infiniti. The concept features a lean, purposeful form with a short front overhang and wide stance. The total width is 1,960 mm, with length at 4,690 mm.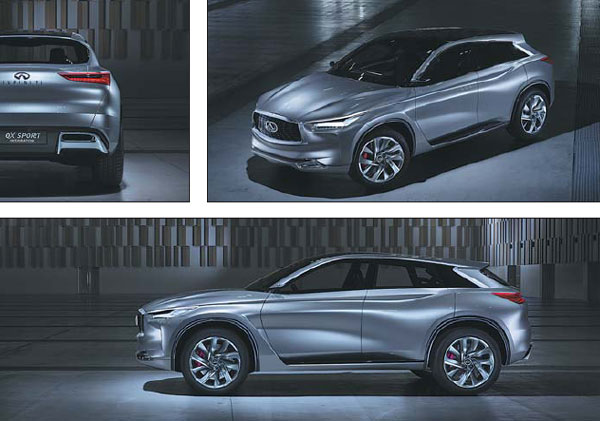 The Infiniti QX Sport Inspiration has muscular haunches, long bonnet and raked and a sleek silhouette. [Photos provided to China Daily]
The body tapers down from the concept car's roof toward a rear hatch that has been angled to accentuate the vehicle's "lean-forward" and coupe-like silhouette.
"For Infiniti, the definition of elegance can be the most sophisticated solution to a complex engineering or aerodynamic challenge, as well as a statement of striking aesthetics. This drives our instinct to create designs that are both beautiful and useful," said Albaisa.
The exterior of the QX Sport Inspiration is notable for numerous design details that are visually striking while also fulfilling a clear functional purpose. For example, located above the sills on both sides of the car is a recessed step. As well as aiding ingress and egress for driver and passengers, this step, finished in gloss-black, reduces the apparent depth of the bodywork and raises the concept car's visual center of gravity.
Large vertical blade-shaped vents are integrated into the front fender, highlighting the width of the Concept while also admitting cooling air to the front brakes. Another pair of vertical vents, located behind the bold front wheel arches, reference those found on previous Infiniti concepts and also serve an aerodynamic purpose, extracting turbulent, draginducing air from the front wheel arches.
Another design feature artfully blending form and function is the performance-inspired rear diffuser, which aids aerodynamic efficiency and is careful integrated with the exhaust outlets.
Infiniti is an international brand, with design, engineering and production facilities on three continents. As with all of its current production models, for the QX Sport Inspiration the company has been able to draw upon an eclectic mix of cultures and inspirations.
"We have worked hard to develop a creative design network that seeks to capture the imagination of people from around the world. By establishing a culture of exchange between all of our studios, Infiniti is able to design beautiful, expressive and progressive cars," said Albaisa.
Infiniti operates a global network of design studios in Japan, the United Kingdom, China and the United States. The company's design network takes inspiration from every region of the world, with each studio drawing on the characteristics of its respective region and providing a window into the needs and desires of its customers.
Infiniti's design studio in London evaluates and reflects modern European tastes and draws on traditional and modern interpretations of automotive luxury. The Beijing design center tends to be particularly daring in its designs, challenging conventional notions of shape and balance. The Infiniti Design center in San Diego is situated in the brand's largest market, providing insights into the lifestyle of the country's West Coast and the needs and desires of American car buyers in general. Finally, located in Atsugi, Japan, the company's central design center provides executive guidance for each of the other studios and shapes highly progressive yet production-realistic designs.