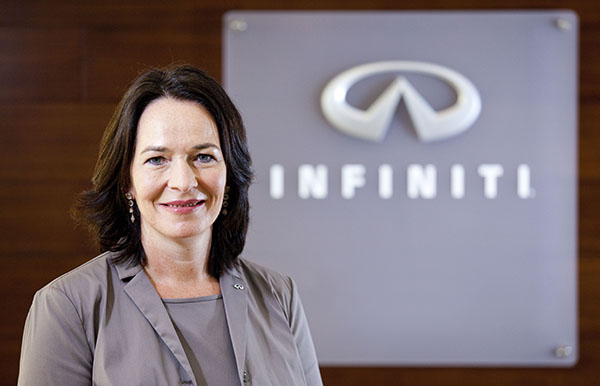 Gaby-Luise Wuest is appointed president of Dongfeng Infiniti Motor Co, Jan 27, 2016. [Photo provided to chinadaily.com.cn]
Gaby-Luise Wuest was appointed president of Dongfeng Infiniti Motor Co on Wednesday to replace Daniel Kirchert "who has decided to leave the company to pursue other opportunities", said premium automaker Infiniti.
Wuest, who was COO of Infiniti, will be dedicated to the Chinese market as the country is of utmost importance to the marque and Kirchert will help ensure a smooth transition, the automaker told China Daily.
Infiniti said Wuest has extensive experience in the premium car segment. She worked for BMW before joining Infiniti in September 2014.
Roland Krueger, president of Infiniti, thanked Kirchert for his contribution in the past three years but said there will be no change in the brand's strategy in the Chinese market after his departure, adding that Infiniti will continue its localization plan and expand its dealership network as scheduled.
Lei Xin, deputy general manager of Dongfeng Infiniti, said Kirchert's resignation will not have much influence as the 2016 plan had been worked out.
Infiniti sold 40,188 cars in 2015 on the mainland, a 33.8 percent surge year-on-year, six times the overall growth rate of the premium car segment in China.
Models produced at Dongfeng Infiniti - Q50L and QX50 - accounted for nearly 60 percent of Infiniti's total sales in the Chinese market.