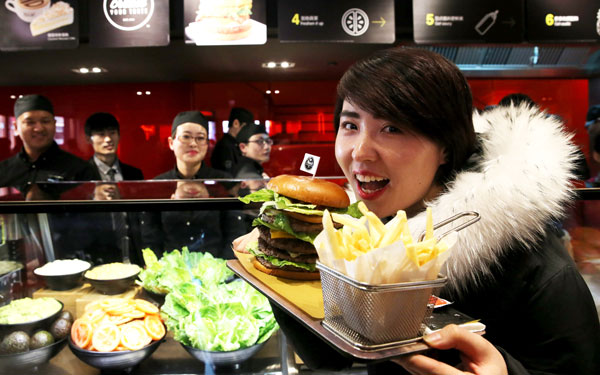 A customer shows a self-made burger at McDonald's first Experience of the Future restaurant in Beijing.[Photo/China Daily]
Global fast food chain to open 250 new outlets in smaller cities
Global fast food chain McDonald's said on Wednesday that is setting up 250 new outlets mostly in lower tier cities and stepping up the pace of its digital expansion in China this year.
The company, which is still recovering from a July 2014 food safety scandal, said it hoped the new moves will help attract more customers to its fast-food outlets.
McDonald's unveiled the first of its "Experience of the Future" restaurant on the Chinese mainland on Wednesday in Beijing's Wangfujing shopping district. The outlet will cater to the core dining needs of customers and offer digital, personalized and customized experiences, said Phyllis Cheung, CEO of McDonald's (China) Co Ltd.
A similar outlet will open in Shenzhen later this year, she said. China is already McDonald's third largest market globally, with 2,230 restaurants in the country.
Cheung cited brand recognition, good value and convenience in terms of delivery services and breakfast products as key growth drivers for last year.
This year, McDonald's will also upgrade its 150 Create Your Taste restaurants in first tier cities with digital services and do-it-yourself burgers.
At the Wangfujing store, the company has teamed up with WeChat, the instant messaging service from Tencent, to offer mobility solutions to customers. These include order placement, selection of items from the customized burger menu, table bookings and an offline game space.
The two-floor restaurant has a simple and plain design featuring look throughs and open spaces. The WeChat alliance also enables customers to use game credits for redeeming restaurant vouchers.
Terra Xu, a research analyst at Mintel Group Ltd, said Chinese customers are willing to pay more for a better consumer experiences.
Due to a series of food safety problems between 2012 and 2014, China's fast food market has seen a significant drop in growth. McDonald's biggest rival in China Yum Brands Inc, the parent of KFC, Pizza Hut and Taco Bell, divested its China business into a separate company last October.
However, Mintel's new report "Fast Food-China 2015" reveals that in 2015, the total value of the country's fast food market was estimated at 690 billion yuan, up 8.5 percent from a year ago.
A gradual recovery is expected in the next five years. By 2020, the total number of outlets is expected to reach 950,000, with compound annual growth of 8 percent.