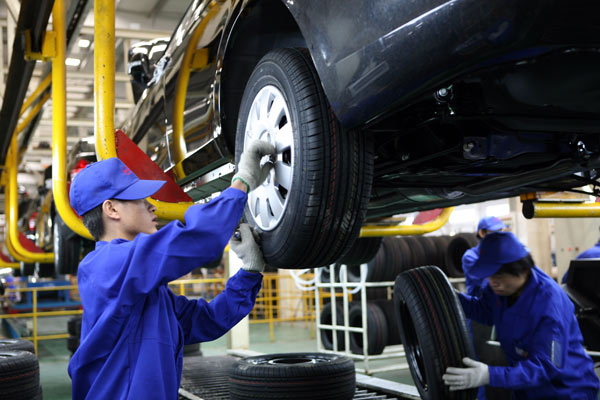 Workers assemble cars at a production line of BYD Co Ltd in Shanghai. BYD is deepening its ties with Correios, Brazil's logistics giant. HU XI/CHINA DAILY
BYD Co Ltd, a major private sector new-energy vehicle producer in China, is firming up plans to further expand into the Brazilian market.
Towards this goal, it is deepening its cooperation with Correios, Brazil's biggest postal service group, which is an official partner of Rio 2016.
"Correios is absolutely the leader of the country's logistics industry. Its projects will influence not only the whole industry, but other international companies such as DHL and Fedex," BYD told China Daily by e-mail.
In March, BYD loaned one of its T3 electric vans to Correios, which is assessing "green" logistics solutions through a series of tests with electric cars from different makers, especially those that feature increased energy efficiency in urban traffic.
"Correios is floating an open tender for purchasing vans for its logistics operations later this year," said a person from the public relations department of BYD, who asked not to be identified but said BYD plans to bid.
The T3 boasts a cargo compartment with 800 kg capacity, and a driving range of over 200 kilometers. The foray into Brazil would mark its international debut.
According to BYD, it is entering Brazilian market step by step. Currently, the company offers some tests and trials to key customers, to help them better know its products and the brand.
The company believes such tests and trials are vital to developing the market.
BYD entered Brazil in 2013 with its electric buses, which were a new product for the country at the time, the e-car maker said.
It introduced its electric taxi, and electric logistic vehicles later. In 2014, impressed by the promising new-energy vehicle market, BYD built a factory in Brazil.
The country has formulated several policies in the past two years to support the development of its new-energy vehicle industry. In October 2015, it removed the 35 percent import tariffs on electric and hybrid vehicles altogether.
BYD's overseas expansion and marketing strategy includes promotion of electric vehicles like buses and taxis in public transport systems, and localization such as establishing research and development centers and assembly lines, the company said.
Founded in 1995 and listed on both the Hong Kong bourse and the Shenzhen Stock Exchange, BYD is a private manufacturer specializing in four industries: IT, cars, new-energy vehicles and light rail systems.
BYD said it sold about 70,000 new-energy vehicles worldwide last year, up more than 200 percent from 2014, accounting for 11 percent of the world's new-energy vehicle market.
By the end of May, BYD's new-energy vehicles have been sold in 200 cities across 48 countries and regions.
The company has 24 production bases in China, one in the United States and one in Brazil. In June, it announced it will build a new battery factory in Qinghai province.