The sports industry is now one of China's most dynamic sectors and has experienced double-digit growth in recent years.
With the Chinese sport industry entering the fast track, Chinese M&A in domestic and overseas sports markets have seen exponential growth since 2015, when it spent almost 40 billion yuan in total investments with 33 deals at the value of over 10 million yuan.
Chinese investors have become a growing force in European soccer amid the continent's sluggish economic recovery that has left the world-class soccer clubs desperate for money.
Foreign soccer clubs have also gained a following in China, which boasts huge room for development in its emerging sports market.
1 Wanda Group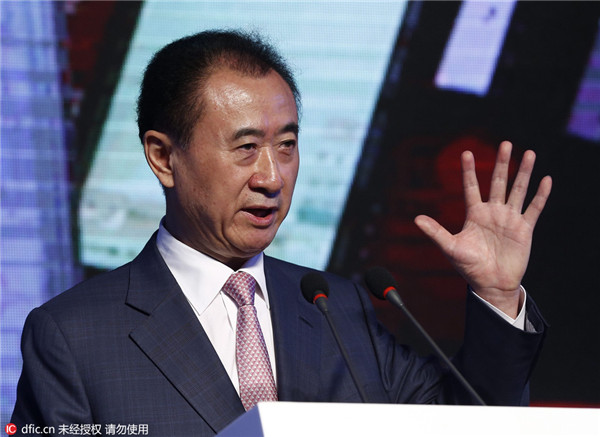 Wang Jianlin, Chairman of China's Wanda Group, delivers a speech during a signing ceremony and press conference for the 'China Cup' international football tournament, at the Sofitel Hotel in Beijing, China, July 13 2016. [Photo/IC]
Wanda Group officially announced an investment of 45 million euros to acquire a 20 percent equity stake in Club Atlético de Madrid ("ATM") on January 21, 2015.
This was the first time a Chinese company has invested in a top-flight European soccer club. The valuation agreed implies attractive multiples given the long-term growth potential of the club.
Club Atlético de Madrid S.A.D. is Spain's third most successful club behind Real Madrid and Barcelona in terms of UEFA competition titles won. In terms of the number of titles, Atlético Madrid is the fourth most successful club in Spanish soccer.