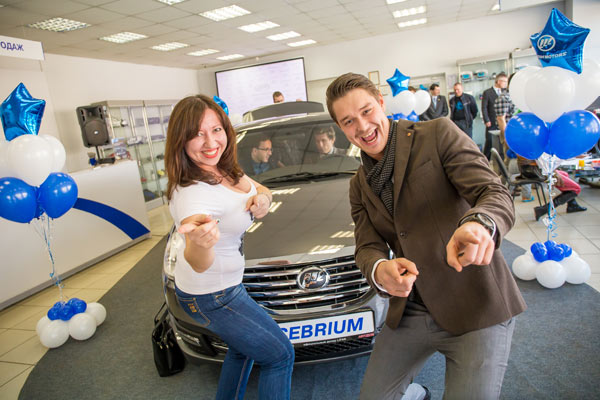 Two Russians strike a pose at the launch of Lifan's new car model in Moscow. PHOTO PROVIDED TO CHINA DAILY
Chongqing Lifan hitches its vehicle exports wagon to a star in time-saving railway
Chongqing Lifan Co Ltd continues to lead Chinese automakers in the European market, going by their performance in the first half of this year, according to a report from Russia's analytics agency AutoStat.
Chongqing Lifan is one of the largest domestic car and motorcycle makers in China. It said it sold 7,565 cars from January to June in Russia, up 63 percent year-on-year.
"We have been the No 1 Chinese carmaker in Russia for five consecutive years," said Chen Wei, vice-president of Lifan.
Not only in Russia, the company now sells its products in 117 countries and regions including Europe, the United States, Southeast Asia, Africa and South America.
In 2015, Lifan's revenue exceeded 30 billion yuan ($4.6 billion) from sales of 230,000 cars and 1.31 million motorcycles at home and abroad.
Since 1998 when Lifan got its license to import and export, it has been expanding in international markets at a fast clip. It set up sales units in the US, Germany, France, Italy and Mexico, built motorcycle production bases in Vietnam, Turkey and Thailand as well as car factories in Russia, Iran, Iraq, Uruguay, Ethiopia, Azerbaijan and Myanmar.
Yin Mingshan founded Lifan at the age of 54 in 1992 with only nine employees and 200,000 yuan in seed money. The company first made only motorcycles. In 2006, it produced its first car, the Lifan 520.
In 2010, Lifan went public and listed on the Shanghai Stock Exchange, the first Chinese private carmaker to do so.
Yin says overseas sales are important to the company.
"When Lifan was set up, we decided to focus mostly on the domestic market. But we realized that we faced formidable competition in the domestic market from big foreign brands and large State-owned companies. We decided to focus on overseas markets, as that offers higher profit margins even though there are stiffer challenges," he said.
"The international market, especially Europe and the US, is hugely significant for us. However, it is more difficult for us to sell our cars in developed regions such as Europe than in Africa. Still, we will work very hard to boost our sales there to gain more brand recognition globally."
The company has done many things to establish its presence overseas, with most of its strategies centering on localization, including local hiring and production.
In Africa, most of the company's products are made from heat-resistant materials to withstand the hot weather, Yin said.
It also sponsors local sports, games and charity events. In Brazil, it uses social media such as Facebook to expand its fan base.
After the city of Chongqing launched the Chongqing-Xinjiang-Europe (Yuxin'ou) Rail in 2011, Lifan gained more advantages than other Chinese carmakers in exporting its products to the European market.
The freight train line runs through Kazakhstan, Russia, Belarus and Poland before reaching its final destination in Duisburg, Germany.
The 11,000 km inter-continental link from Chongqing to Germany will help the company save a lot of time and money.
According to Lifan Vice-President Chen Wei, the company used to rely on sea transportation which usually took about 50 days. Now, however, the Yuxin'ou railway takes only 15 days to ship the cars to Europe.
"We can save $5 million in interest every year by using the railway," he said.
In recent years, Lifan has invested hugely in new-energy cars. In 2015, it launched its Intelligent Blue strategy to develop a new industrial chain based on internet and new energy.
It has an ambitious plan to build the world's biggest car-sharing rental company next year.
The company hopes to have 300,000 electric cars in its rental business by 2020, which will help make it one of the leading new-energy vehicle leasing platforms in China, according to Gao Yu, CEO of Lifan-owned Pand Auto.
Pand Auto, a car-hailing platform for new-energy vehicles, launched its car-sharing service in November in Chongqing.
This year, the service has expanded to Zhengzhou, Henan province, and Hangzhou, Zhejiang province.