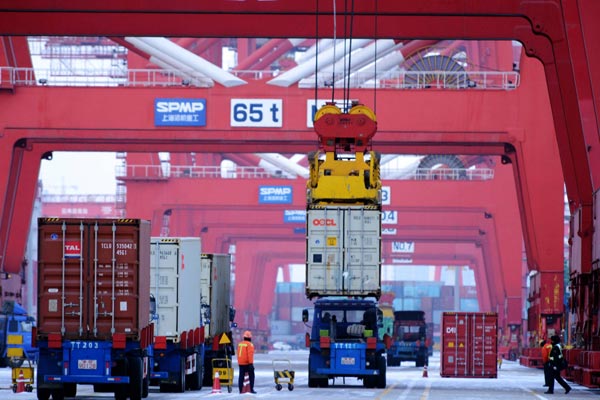 A ship loads containers at a terminal in Qingdao, Shandong province. [Photo/China Daily]
China's exports face downward pressure in the third quarter amid a severe and complex economic environment, but trade may continue to stabilize in the second half of the year, the General Administration of Customs said on Wednesday.
The country's leading export indicator started to drop in May after reaching a peak in April, which indicates increasing downward pressure, customs spokesman Huang Songping told a news conference in Beijing.
"The world economy still faces many uncertainties, including Brexit, expectations of an interest rate hike by the US Federal Reserve, volatile international financial markets and the threat of terrorism. These will all affect the confidence of consumers and investors globally and curb international trade," Huang said.
A survey among 2,600 export-oriented companies showed that 67.6 percent of them regard insufficient international demand as the main challenge they face.
Chen Peiyue, deputy executive general manager of Yangjiang Xianfuren Industrial Co Ltd, said her company's production had been affected due to dropping overseas orders from both the European Union and the United States. The company, based in Yangjiang, Guangdong province, produces and sells knives.
The company's business started to improve in June thanks to a big order from the United Arab Emirates, Chen said, adding that it plans to build a strong presence in countries along the Belt and Road Initiative.
China's exports dropped 2.1 percent to reach 6.4 trillion yuan ($956.8 billion) in the first half of the year, while imports shrank 4.7 percent to 4.73 trillion yuan, said the Customs.
But trade situation in the second quarter improved. Exports grew 1.2 percent after plunging 5.7 percent in the first three months, the Customs figures showed. Imports dropped 1.2 percent from April and June, after declining 8.4 percent in the first three months.