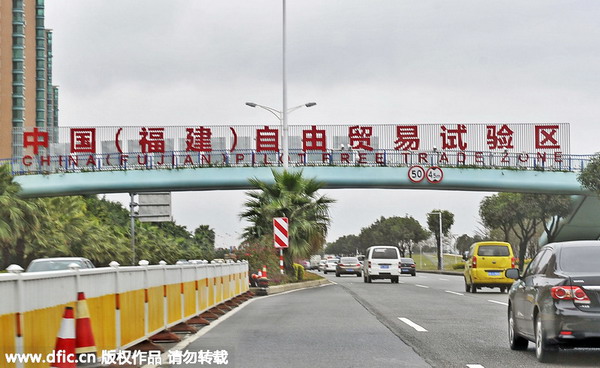 Fujian Pilot Free Trade Zone is looking to innovation, March 6, 2015. [Photo/IC]
China's decision to set up seven new free trade zones in the country demonstrates its unswerving resolve to deepen reform and opening-up and adapt to the global economic and trade regime.
By setting up the FTZs, China will carry out a series of fundamental reforms in such fields as the system for doing business, trade facilitation, financial liberalization and innovation, and administrative regulation to help facilitate the flow of foreign investment and capital and build a law-based and equitable market environment.
With a view to piloting economic and financial reforms, China set up the China (Shanghai) Pilot Free Trade Zone in 2013, and the following year it allowed Tianjin municipality, and Fujian and Guangdong provinces to establish FTZs. In the past three years, central and local regulators have accumulated enough experience and expertise to help to spread the opening-up program to more regions and replicate the success of these earlier projects.
China's strong resolve to press ahead with reform and opening-up despite the economic slowdown is evident from its decision to establish new FTZs in Liaoning, Zhejiang, Henan, Hubei, Sichuan and Shaanxi provinces, and Chongqing municipality.
China's year-on-year GDP growth has slipped to 6.7 percent. But the latest manufacturing activity index, released on Thursday by the National Bureau of Statistics, shows the national economy could be starting to bottom out.
The official manufacturing purchasing managers' index in August reached the highest point since November 2014, with some of its key components, such as production, new orders and employment, showing substantial improvement.
However, an improved reading of one indicator does not necessarily foretell a bright future. Obviously, uncertainties abound and any recovery will be bumpy thanks to weak domestic growth and fragile global demand.
It would have been understandable had China taken bolder stimulus actions to quickly bail out the economy, but it has not done so. While making minimum monetary and fiscal policy adjustments to ensure moderate growth and stabilize employment, China has instead opted to accelerate reform and opening-up to lay a solid foundation for sustained growth in the middle and long term. The seven new FTZs are one more example of that.
The battle will be tough but will ensure that China's economy gets healthier and expands at the right pace. More importantly, it will become a more accommodating market equipped with an international-standard regulatory system and more constructive environment for doing business that cater to global investors and traders.