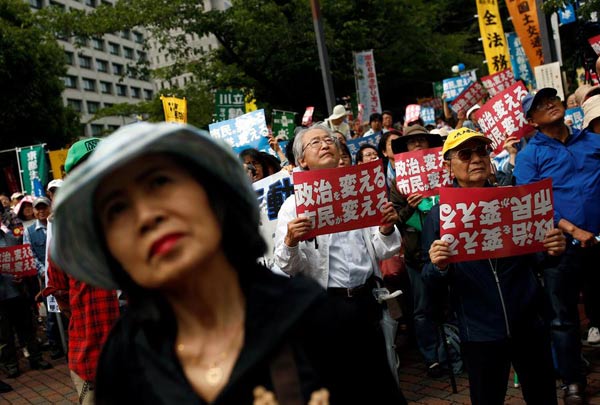 People rally during a protest denouncing the policies of Japanese Prime Minister Shinzo Abe in Tokyo, Japan, June 5, 2016. The placards read: "Citizen change politics." [Photo/Agencies]
Japan's litany of accusations against China has become standard fare. Its 2016 defense white paper disclosed last week by the country's media depicts China as a "muscle-flexing" country while turning a blind eye to the massive arms build-up in the Asia-Pacific-not least by itself.
According to a report released by the Stockholm International Peace Research Institute on Feb 22, the region as a whole bought 46 percent of global arms imports in 2011-15, up from 42 percent in 2010-14.
The London-based military publisher IHS Jane's found that total defense spending in the region bordering the South China Sea had increased by 71 percent between 2009 and 2015, with the Philippines, Indonesia and Vietnam registering the fastest-growing defense budgets in 2015.
Vietnam's military expenditures totaled $4.4 billion in 2015, compared with roughly $1 billion in 2005, the largest increase among Southeast Asian countries. The country has bought eight combat aircraft, four fast-attack craft and four submarines. A further six frigates and two submarines are on order.
Last year, the Philippines announced an increase of 16.3 percent in its defense budget for this year. Australia has unveiled a $139 billion defense budget for the next decade, including a doubling of its submarine fleet to 24, three additional destroyers, nine new frigates and 12 offshore patrol boats.
With new security legislation, Japan has upgraded its Self-Defense Force into a full-fledged military with new headquarters and upgraded guidelines for defense cooperation between Japan and the United States.
In March, the Japanese government approved a record $44 billion defense budget, the country's largest ever and the fourth straight annual increase under the administration of Prime Minister Shinzo Abe, as the new security legislation went into effect. The bills eased the previous restraints on Japan's military and permit Japanese troops to operate beyond Japanese borders in support of its allies.
Also in March, Japan's Ground Self-Defense Force opened a radar installation on Yonaguni Island, which is near the Diaoyu Islands in the East China Sea. The new surveillance station is expected to monitor China's activities in the East China Sea and, possibly, the northern sector of the South China Sea. The post is also believed to have the potential to be used for military operations, and is part of Japan's plan to activate a series of coastal and amphibious security units on the country's southwestern islands.
In April, the Japan Coast Guard launched a special unit of 12 large ships to patrol waters around the Diaoyu Islands.
In an opinion piece published in Japan's Nikkei Asian Review, James Stavridis, dean of the Fletcher School of Law and Diplomacy at Tufts University, said "the Asian arms race is real and it is dangerous". He recommended that the US encourage cooperation between its allies in the region in a way that does not create a new Cold War between China on one side and the US and its allies on the other.
Japan's cabinet is expected to approve this year's defense white paper early next month. Describing China as a source of tension, Japan is intent on giving itself further justification to beef up its military.
The author is China Daily Tokyo bureau chief. caihong@chinadaily.com.cn