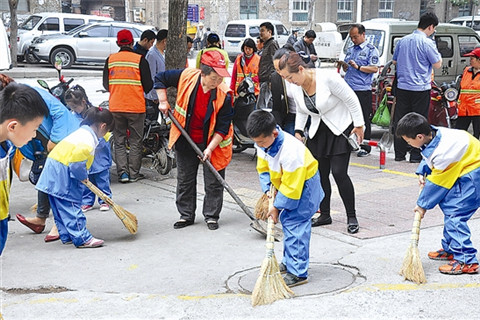 Students from Sanmenxia No.2 Primary School take to the streets to help sanitation workers. [Photo/ismx.cn]
Students at a primary school in Fuzhou, East China's Fujian province, were reportedly required to clean the school toilets to "help them nurture good habits". Cnr.cn commented on Thursday:
For some of the pupils and their parents, who strongly opposed the idea of their children cleaning the school's toilets, the school is supposed to provide students with a proper education, not the opportunity to be school cleaners.
But they fail to see the benefits of youngsters collectively doing such chores, which have great potential to instill in teenagers a sense of responsibility and a do-it-yourself mentality.
In fact, parents, schools, and society as a whole, play an equally important role in developing the character of youngsters. It is good for schools to assign students such tasks as few will do them at home, because their parents want them to focus on coursework only.
In recent years, parents tend to make mountains out of molehills when it comes to non-academic activities in schools. Some scold the teachers if their kids get a minor injury at school, some even challenge the school's teaching methods and management.
As a result, many elementary schools, especially those in big cities, do not allow students to take part in outdoor activities during breaks, fearing that they might get hurt. This is by no means conducive to nurturing the best qualities of youngsters.
What the primary school in Fuzhou is doing to enrich the students' in-school experience, as well as their efforts to carry forward the practice when challenged by a number of parents, are therefore praiseworthy.
The kids who are "required" to clean the school toilets and their parents will thank the school later for teaching them the spirit of rules and teamwork.