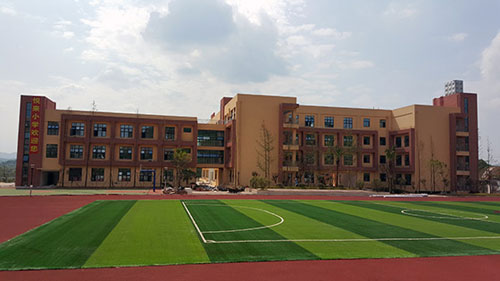 Yuelai Primary School in Yuelai New District, Liangjiang New Area [Photo/liangjiang.gov.cn]
Construction work on Yuelai Primary School in Liangjiang's Yuelai New District has been completed and will open on Sept 1, according to the Liangjiang administrative committee.
The school is located to the north of Chongqing International Expo Center and covers an area of 17,280-square-meters. The installation of educational facilities was completed on Aug 1, while the fire safety and construction inspections are expected to be passed by Aug 25.
The school will have a maximum capacity of approximately 1,000 students and be capable of running 24 classes at any one time.
The school is located in Yuelai New District of Liangjiang New Area in the Chongqing municipality. Yuelai New District contains three functional areas, namely, an exhibition area, eco-friendly area and smart city area. Approximately 800 million yuan ($128 million) will be invested in the construction of a pilot "sponge city" project in Yuelai New District.
Edited by Jacob Hooson