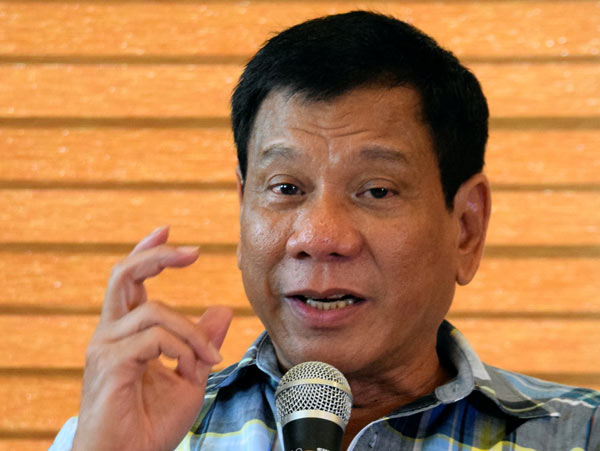 President-elect Rodrigo Duterte speaks during a news conference in his hometown Davao City in southern Philippines, May 16, 2016. [Photo/Agencies]
The major foreign policy challenge facing Rodrigo Duterte when he takes office as the Philippines president will arguably be balancing the enhancement of the Philippine's defense relations with the United States and the improvement of the country's political ties with China.
Duterte needs to ally the fear in the US that his presidency will lead to the cooling of Philippine-American relations, considering his nasty remarks against the US during his election campaign. Having been associated with personalities in the Philippine communist movement, Duterte displayed a critical and lukewarm attitude toward the US during the election.
Because the Philippine Supreme Court has declared the constitutionality of the Enhanced Defense Cooperation Agreement, Duterte has committed to the inevitable implementation of the EDCA. But he asserts that he will closely monitor the agreement to ensure it is implemented in accordance with the Philippine's national interests.
So it seems the Duterte presidency will depart from the excessive pro-US stance of his predecessor President Benigno Aquino III. This departure is now causing uneasiness in the US State Department and the Pentagon. The changing of guard in the US, which will have its own presidential election in November, provides another source of uncertainty in the current trend and future direction for Philippine-American relations.
While Duterte seriously values the Philippines' long-standing security alliance with the US, he seems to be more enthusiastic about repairing the Philippines' damaged political ties with China. In many of his public statements during his campaign, and in the aftermath of the recently concluded elections, Duterte vowed to resume bilateral talks with China.
Duterte prefers the exploration of peaceful options to address the Philippines' South China Sea disputes with China. To peacefully manage the disputes with China in the South China Sea, Duterte has openly declared his preference for promoting joint development. Though Duterte still needs to clarify the details of his idea of joint development, he seems to be following former top Chinese leader Deng Xiaoping's formula of shelving territorial disputes for the purpose of joint cooperation.