Primary school teachers should get higher pay
( China Daily )
Updated: 2015-11-24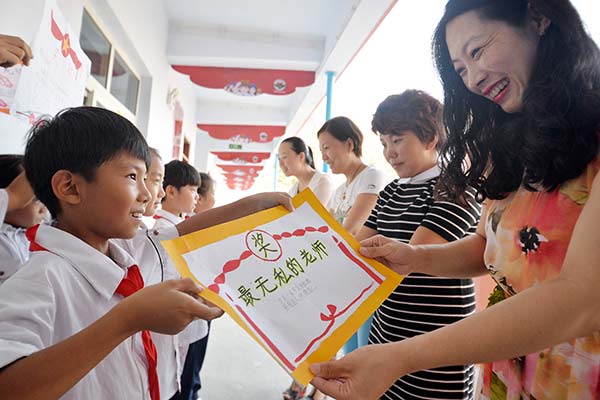 Students give their teachers handmade certificates of merits to express their gratitude on Thursday, Teachers' Day, at a primary school in Handan, Hebei province. HAO QUNYING /CHINA DAILY
Due to a gender imbalance among local primary school teachers, the educational authorities in Southeast China's Fujian province offered 500 male high school graduates free college education to become teachers. This is not a good solution to the gender imbalance among primary school teachers, says Southern Metropolis Daily:
Data from the local authorities show that 83.2 percent of all the urban primary school teachers are female, and many kindergartens do not have any male teachers.
The Fujian education authorities might intend to solve this problem with their move. However, the strategy they have adopted is rather silly. It is, first of all, doubtlessly unfair to provide free education to only male students; worse, if male high school graduates enter normal colleges for free, some female students might lose the chance of entering these colleges, which is even more unfair.
Besides, such a policy might be ineffective in solving the problem. The nation started adopting a policy in 2007 that waived the tuition fees in several colleges for those willing to be primary school teachers, but a 2011 survey found that only 31.9 percent of graduates joined the ranks of primary school teachers. The policy in Fujian province might very possibly face similar problems when the students graduate.
Actually, male students are unwilling to be teachers because the pay is rather low and so they prefer to study majors that promise better incomes. The reality is that many primary school teachers work long hours every day, yet their income is lower than that for civil servants whose work is much easier. It is time to consider raising the salaries of primary school teachers so that more males are willing to join the profession.