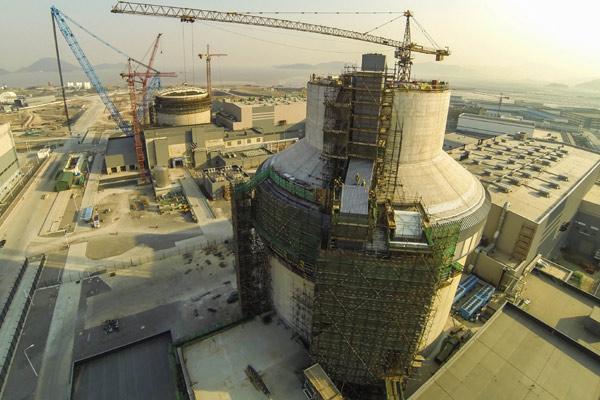 Nuclear reactors under construction in Sanmen, Zhejiang province.[Photo/Xinhua]
No international initiative on nuclear security can produce a meaningful global solution without full Russian participation.
That is why few anticipate substantial progress at the ongoing Nuclear Security Summit in Washington.
Expectations are also running low because someone else will be leading the United States at future summits when President Barack Obama leaves office.
There has even been speculation that this may well be the last of this Obama-proposed summit series, which he hoped would be part of his legacy.
However, that is precisely why the Washington summit is of particular significance, and why President Xi Jinping's decision to attend makes good sense.
The next US president may or may not prioritize nuclear security. But increasing nuclear risks are a truth the international community cannot afford to underestimate.
The Democratic People's Republic of Korea worried about its survival has responded by threatening other countries with nuclear strikes.
Pyongyang's nuclear threats have prompted calls in the Republic of Korea and Japan for the two countries to develop nuclear capacities. Donald Trump, the front-runner to be the Republican candidate to succeed Obama, has also suggested Washington consider allowing the two allies to obtain US nuclear weapons.
Equally if not more unsettling is the specter of terrorist groups getting their hands on nuclear material that would enable them to make a "dirty bomb". Investigations surrounding the Brussels attacks have raised reasonable suspicion that the Islamic State group, which has already used chemical weapons, is eyeing nuclear facilities and materials. Worryingly, security watchdogs have reported pervasive "basic weaknesses" in the way fissile materials are being preserved across the world.
China has very high stakes on both fronts.
The nuclearization of Northeast Asia would be a substantial security threat to China. And a recent report by the Nuclear Threat Initiative just put our name on a list of countries whose nuclear reactors are vulnerable to cyberattacks.
China would benefit tremendously from international cooperation on nuclear security. At the same time, it has a critical role to play in reducing tensions on the Korean Peninsula.
So Xi and Obama have plenty to discuss and coordinate at the sole bilateral meeting during the summit.
Beyond that, Xi should convey the key message that China is seriously committed to broader international nuclear security cooperation, and he should work closely with the leaders of other countries to make sure the summits continue, even if the next US president refuses to take up the mantle.
Because an operational global nuclear security regime is yet to be achieved-and the world urgently needs one.