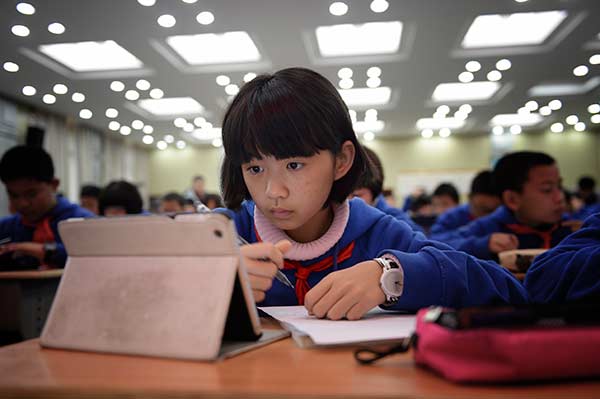 A student learns from an online open course in a middle school in Changsha, Hunan province on Nov 28, 2014. [Photo/CFP]
The money that Wang Yu makes as an online teacher in Nanjing, capital of East China's Jiangsu province, has triggered an online debate. According to media reports, each of Wang's 2,617 students paid 9 yuan ($1.4) for a one-hour online course, which means he earned 18,842 yuan even after the website took a 20 percent cut as commission from the total revenue.
In seven hours Wang can make what an average teacher takes an entire year to earn. Some other online teachers, too, can earn handsome amounts so long as they get enough students to choose their courses, although others may not be that lucky.
This is not the first time K12 online education, or students from kindergarten to high school getting tuition online, has become a hot topic of discussion in China, as the number of students seeking help online to have their lessons reviewed in pursuit of quality education has been on the rise.
The 2016 China Internet Education Industry Report shows 67 percent netizens in the country go online to seek education materials or help (including tuition), and one-third of them are K12 students. An average K12 student receives 1.5 to 2 hours of online lessons every day, and the K12 online education market is expected to be worth 4.37 billion yuan in 2017.
The trend of students using the Internet to improve their performance in schools is expected to grow, because more and more people born in the 1980s and 1990s who become parents have an open attitude toward the Internet. The government's "Internet Plus" policy, which has education as a key element, is also likely to boost this growth.
Online courses offer practical choices to students, allow more students to "share" excellent teachers, and have more flexible timetables as the video lessons can be replayed to learn or verify key points.
More importantly, online K12 education makes it possible for students in relatively underdeveloped regions to access quality education. It makes veteran teachers and good textbooks available on the Internet, and rural students who otherwise would not have access to them can avail themselves of the services.
However, K12 online education in China is still far from being perfect. At present, it is simply shifting ordinary school courses online, in which a teacher delivers a lecture and students take notes, but there is hardly any interaction between the teacher and the students.
Moreover, in order to make as much money as possible, most online education providers arrange their courses in a way that one teacher can deliver a lecture to a virtual "class" of hundreds of students. Interaction, as such, is absent and what students receive are simply streamlined products.
There are other problems, too, such as lack of quality control. On most of the online K12 teaching platforms in China, the more students a teacher gets, the more money he/she makes. Thus many teachers tend to waste time talking about things unrelated to school syllabi instead of using the limited time to inculcate students with true knowledge. How to prevent online teachers from pursuing profit at the cost of providing quality education remains a major challenge for K12 online education platforms.
Although the law forbids public school teachers from joining K12 online platforms to make extra money, some teachers still do so. Not focusing on their real duty because of their divided attention, such teachers have become a new problem for public schools.
These problems need to be addressed. K12 online education platforms are an emerging sector, but they are far from being a challenge to traditional public schools. But one thing is certain: if these platforms need to improve their services, local education authorities also need to better fulfill their role as regulators so as to provide equal and quality education for all.
The author is a faculty member and Ph. D. candidate on education science at Beijing Normal University.