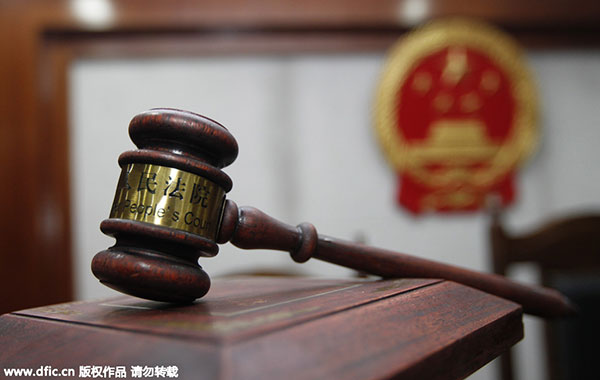 A gavel in a court. [Photo/IC]
A DEPUTY TO the local people's congress, or legislature, in Xi'an, capital of Northwestern China's Shaanxi province, reportedly hit a lawyer while observing a court hearing in which he was involved. The court detained him and fined him 10,000 yuan ($1,537). He should be prosecuted for assault, says Beijing News:
According to Article 309 of the Criminal Law, those who assault judicial staff or litigation participants commit a serious crime and should be imprisoned for up to three years. It should be noted that as long as somebody initiates an assault, that constitutes a crime, even if the victim is only slightly wounded.
The deputy is suspected of committing the crime and what the court should do is to call the police to investigate, and the procuratorate should then decide whether to charge him. If guilty of assault, his punishment was too light. His being a deputy to the local legislature is not a reason for the court to show leniency.
Some might argue that his attack on the lawyer was not too serious. But by beating a lawyer, a person actually shows contempt to a court and the law. That's rather detrimental to the rule of law. Among the victims are not only the lawyer, but also the court, the law, and the public's trust in the law.
In both the United Kingdom and the United States, contempt of court and disturbing the order of a court are considered crimes that can carry quite heavy penalties. If the deputy gets too light a punishment for his deeds it might shake the public's confidence in the law.
China is promoting the rule of law, and the case might undermine that process. We hope the local judiciary can perform its role well by defending the law.