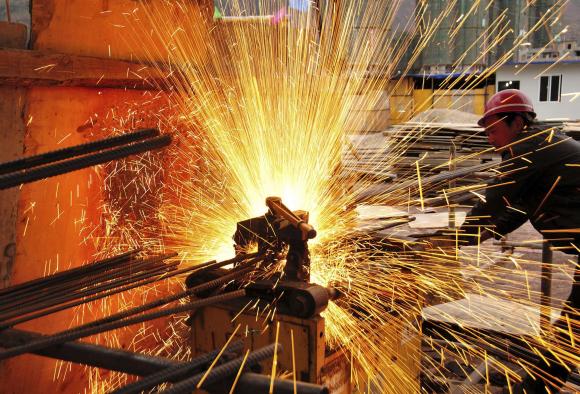 A worker welds at a construction site in Yiliang, Yunnan province, Feb 28, 2015.[Photo/Agencies]
In a report published on Tuesday, the credit rating agency Moody's said "contradictions" exist among China's goals of maintaining a reasonably high economic growth rate, reforming its economic structure, and ensuring financial, economic and social stability, and it predicted that at least one of these goals will end in failure.
The rating agency's judgment, which came days after it cut its outlook on China from stable to negative, seems to be based on the logic that growth and stability cannot be achieved simultaneously, that deepened reform must be made by sacrificing growth. But this seemingly logical inference is a miscalculation of China's realities.
China has developed its own ways to realize reforms, development and stability, and any temporary disequilibrium among the three is soon restored to balance, as indicated by its admirable performances in advancing reforms and development and maintaining social stability over the past decades.
After more than three decades of breakneck growth, it is natural for China's economic growth to slow, and this is unrelated to the introduction of new reforms.
Reforms are the only choice for promoting economic growth because they are needed to make growth healthier and more sustainable. It is only some in the West who have made a fuss over the moderate decline in the growth rate of China's GDP.
How to effectively promote both reform and development is the most useful experience China has learned since it launched its reform and opening-up policy in the late 1970s.
In view of China's large demographic and economic scale and its unique political and economic structures, Western rating agencies such as Moody's should be more circumspect and objective while evaluating China's growth prospects. Today's China is much different from what it was during the planned economy era and also different from Western realities, so the rating agencies should remain modest and refrain from jumping to conclusions.
Global Times