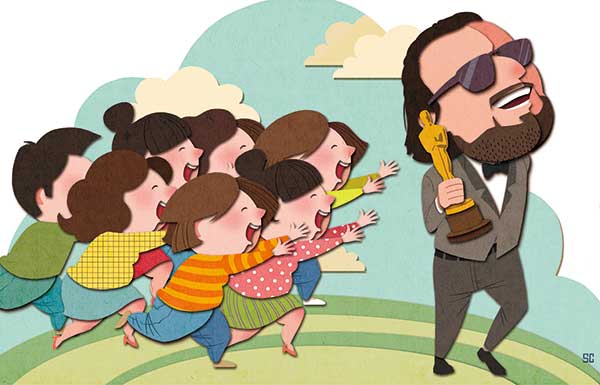 Song Chen / China Daily
The mystery of a foreign star's appeal in China deserves more than tabloid coverage. Its unraveling may help shape the face of future global blockbusters and advertising campaigns.
Leonardo DiCaprio's win at the 88th Academy Awards did not come as a surprise. It was the way Chinese film fans had been rooting for him that could be a revelation, especially to those in Hollywood. To quote a commentator, "it was as if Leo represented China all along and had been unfairly losing." You would get the idea only if you compare it with the winning of an Olympic athlete - and in a sporting event Chinese truly care about.
Where I used "Leo", the Chinese original was "Little Li", which is an affectionate nickname built on the similarity in sound to the first syllable of his first name. It is a sign of special treatment. Only a few foreign stars have received this unofficial honor. Sure, part of the reason is, his name has a convoluted pronunciation in Chinese, with nine syllables. But an epithet like this often bespeaks something more subtle and profound than even an entry in Wikipedia.
Take Benedict Cumberbatch. The star of the British series Sherlock has a Chinese moniker that sounds nothing like his English name, which would also be a mouthful in full Chinese translation. Instead, it was inspired by his look. I don't know who came up with "Curly Fortune" (Juanfu), but it seemingly captures the persona, or at least how Chinese perceive him.
A nifty pet name in Chinese is the surest sign of a foreign star's popularity in this country. Of course, stars with short and catchy Chinese names have a natural advantage. Nicole Kidman or Keira Knightley, as far as I know, do not have Chinese nicknames, but their Chinese first names have only two syllables.
Rosamund Pike could be the first Western star who is said to have officially commissioned or sanctified a Sinicized name. However, neither the elegant sounding Pei Dunhua nor the person behind it has caught on. Yes, her performance in Gone Girl is frighteningly unforgettable, but the movie was not available in Chinese cinemas.