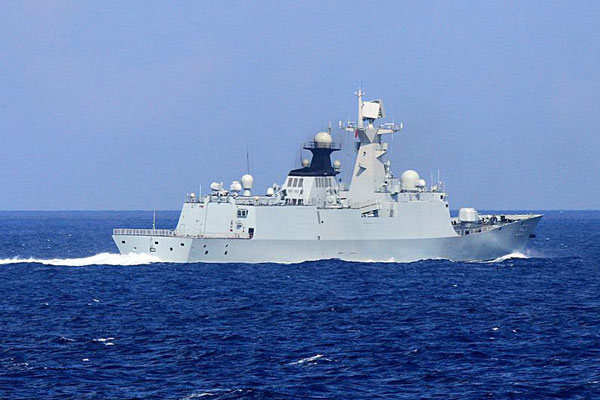 A warship sails in South China Sea during a Chinese navy drill in South China Sea, July 28, 2015. [Photo/CFP]
David Harsanyi, senior editor of the US Web magazine The Federalist could not be more correct in observing: "Perception is everything in politics. And we believe a lot of ridiculous things."
He was talking about voter anxiety in the United States, and pointed out to readers that "China's economic supremacy is a myth".
We could not agree more. At home and abroad, there is a tendency to ignore the essential per capita aspect when evaluating the Chinese economy.
To those worried or elated that China's economy has surpassed the US' as the world's largest, or is quickly approaching that point, we want to give the very same heads-up: We are not there yet.
The same is true of the claim that China's military might is rapidly catching up with that of the US, and is now a credible threat to it.
Such overestimations of Chinese prowess are flawed and misleading, and the anxiety and fear resulting from them may result in devastating consequences; particularly when suspicions are involved.
Unfortunately, the situation in the South China Sea seems to be evolving in that direction. This is dangerous.
Not because of China's reclamation activities or the defense facilities it has installed on the land it has held for centuries.
Not because the US Air Force will continue to fly daily missions in China's airspace and the US Navy will continue its "freedom of navigation" operations in Chinese waters, or because Washington is in talks to station B-1 strike bombers in Australia.
These are deliberated moves, both manageable and under control.
Beijing and Washington are both concerned about unwanted outcomes, thus in discussions about a common code of conduct to regulate their militaries' encounters whether in the air or at sea.
The real danger lies in the vicious circle at work: Washington's fear of being elbowed out of the region by an increasingly capable and "assertive" China has made it paranoid about the South China Sea, and it is fear-mongering to rally resistance against Beijing.
But the response to Washington's call for joint patrols in the South China Sea has been less than enthusiastic: because few in the region have felt a credible threat, because everybody knows freedom of navigation is not an issue here, and most know the waters will remain peaceful and stable unless sabotaged.
US saber-rattling in the South China Sea is hardly a thing to worry about, as long as it is, as Washington has pledged, in accordance with international law.
But the fear it feeds on and breeds is, as it may result in a self-fulfilling prophecy.