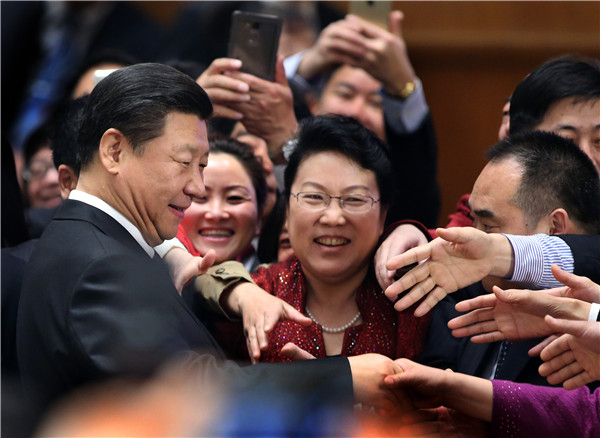 President Xi Jinping greets lawmakers at a preparatory meeting for the top legislature in the Great Hall of the People in Beijing on Friday. Wu Zhiyi / China Daily
The publishing of a talk President Xi Jinping had with some private entrepreneurs last week is a move with many levels of significance.
The Chinese president joined the discussions of a panel of mainly private-sector representatives at the current session of the Chinese People's Political Consultative Conference National Committee, a top-level political advisory body, on Saturday.
While he has made several talks in panel discussions during this year's sessions of the National People's Congress and CPPCC National Committee, only this one has been published in full and in the form of a political document.
It is a fairly lengthy piece, nearly 5,000 characters, and there can be little doubt that it ranks as one of the most important policy speeches Xi has made since he became president.
Why is it so important? Because it can help China dispel the rumors that its leaders may backtrack from the market-oriented reform that Deng Xiaoping promoted in the 1980s and return to favoring administrative means, instead of market-economy methods, to run the economy. And because it outlines healthy relations between government leaders and entrepreneurs.
It will also help all non-State players understand the economy's transition is not going to reduce their importance, even less squeeze them out of the market. This should be taken as a message to all law-abiding private sector business entities, be they home-grown entrepreneurs, investors from Taiwan, Hong Kong and Macao, multinational corporations, or small and medium-sized overseas enterprises.
There is a rather solemn statement by Xi that any attempt to eliminate either the public sector or the private sector of the economy is wrong, because doing so would deviate from the basic interests of the people, and do a disservice to China's reform and development. The Chinese legal system is based on the equal protection of the public and private property rights.
The president noted that private entrepreneurs will see greater opportunities in China's 13th Five-Year Plan (2016-20).
At the same time, Xi's talk helps define the healthy relationship between the government and government offices on the one hand, and private businesspeople on the other.
All government offices are duty-bound to be responsive to private entrepreneurs' demands. But the relationship between officials and businesspeople should be of the "gentlemen type", Xi said, borrowing a traditional Confucian term to describe those engaging in law-abiding business and involving no personal favors, even less shady deals.
Indeed, Chinese enterprises would earn a much higher reputation in the world if they valued their brand names and entrepreneurs behaved as exemplary citizens.