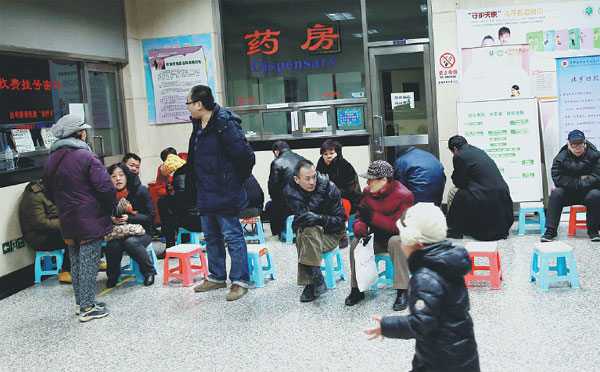 Patients wait in line for the registration windows to open at the Beijing Stomatological Hospital on Wednesday. The windows open at 7 am to sell tickets for treatment, and it is a common practice for people to use stools or other objects to reserve a place in the line.[Photos by Zou Hong / China Daily]
A number of hospitals in Beijing have said they intend to do more to try and put an end to the organized rings of scalpers that profit by snapping up the appointments with doctors and then selling them to genuine patients.
Beijing Tongren Hospital says it will offer unlimited registration tickets in some clinics and extend the clinic hours of specialists, while Beijing Obstetrics and Gynecology Hospital is also launching a campaign against the hospital scalpers. That determination is important but we need more actions, comments Beijing Youth Daily:
Scalpers have become a growing cancer in the country's healthcare system and a disease that the authorities have failed to effectively treat. Faced with tremendous harm and abnormally stubborn swindlers, hospitals in Beijing seem to have decided to take action.
Although the city's medical institutions do not seem to have come up with a unified move or tactics to crack down the scammers, a number of hospitals have announced that they will make special efforts to combat the reprehensible practice that potentially puts patients at risk.
Their willingness to take responsibility is actually a positive development in the face of the authorities' inertia, and such an attitude and determination are important to cure this sickness in our society.
Hospitals are meant to help people in need, faced with the patient's frustration, resentment and anger, every hospital should seek to eliminate the scalpers.
These unscrupulous people know that the hospitals have a limited number of security guards and the medical staff are busy with their duties. Therefore, they are exceptionally rampant, and have continued to multiply as they have, up until now, been able to operate unhindered.
To cure this sickness, law enforcement is needed. We are glad to see hospitals have taken the first step and hope they will accomplish much.