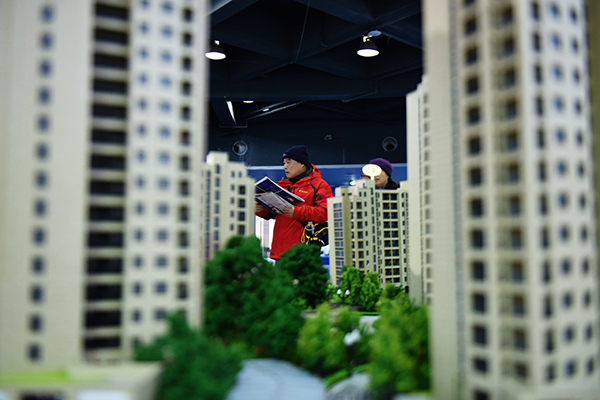 Homebuyers at a real estate promotion event in Hangzhou, capital of Zhejiang province. [Long Wei/China Daily]
Nearly five years ago, I made the biggest investment decision of my life-to buy an apartment.
Of course it was not in Beijing. Housing prices in the capital city had already skyrocketed to a jaw-dropping level far beyond the purchasing ability of a wage-earner like me, but they constantly served as a reminder of my foolishness of not having forecast the trend. In a matter of years, property prices in the community where I lived had surged by around seven times.
If I had had any prophetic vision, I would have been able to retire now sitting on my ballooning property wealth, I often thought. The feeling of contrition kept nipping my heart with such an increasing intensity that I finally felt compelled to make up for it-by buying a property elsewhere.
My target destination was Kunming, capital of Yunnan province. Not only because it is my wife's hometown, but also it is considered a niche market. Often called "the city of spring", it is a tourist mecca famous for its pleasant weather and eternal greenery, as well as clean and fresh air. And the price for an apartment in a high-end community in the downtown area-well furnished and in a get-your-baggage-and-settle-in state-is only around 10,000 yuan ($1,540) per square meter, or a quarter of that in Beijing. What a bargain.
So in the summer of 2011 I was ready to dig the first bucket of gold in my life. As if I had put on the red shoes in one of Hans Christian Anderen's fairy tales, I found myself in an unstoppable mode, carried away by passion searching for a buying target, negotiating over discounts, arranging for payments, and finally, signing a deal.
The 90-sq-m apartment I bought is in the second phase of a mature community project just a few kilometers from the city center, with supermarkets, schools, a cinema, a small park and many bus routes nearby. I chose it because I kept in mind the No 1 rule in real estate: "Location, location, location".
I had sown the seed, and was waiting to reap my fruits of fortune.
In the following years, I have become an avid watcher of housing prices. The timing of my investment was good. Nationwide, housing prices have kept rising, but noticeably only in Beijing and other first-tier or coastal cities such as Shanghai, Guangzhou and Shenzhen. As for my investment, the gain has been even lower than fixed deposits at banks.
It might take some time for the ripple effect of housing price rises to spread from major cities to a third-tier one like Kunming, I thought. Yet my hope was dashed with the completion of many more housing projects surrounding my community, each offering more attractive prices. I had to resort to Rich Dad, Poor Dad to get some comfort. "Keep your daytime job, but start buying real assets," I read. But isn't that just what I have done?
So have many other people.
My foot masseuse told me proudly one day that she had just bought an apartment in a county in Gansu province. The young man who used to deliver bottled water to my office also told me the other day he had settled his parents from a village to his newly bought apartment in Tai'an, Shandong province. Many of my friends in third- and fourth-tier cities have at least two apartments.
Then I read reports about the country's ambitious urbanization plan. The new urban and township blueprint looks to accommodate an additional 3.4 billion people by 2030, as compared to 730 million people already settled in cities. That explains why everywhere I go in the country, I see endless skylines of buildings in the "new districts" or "ghost cities", even in some poor and remote counties. It must be the largest building boom in human history.
On Tuesday the central bank, in another move to buoy up property market, allowed banks to cut the minimum required mortgage down payment to 20 percent from 25 percent, the lowest level in many years. But I doubt it will be effective.
Except in first-tier cities, people have had too many houses in hand already.