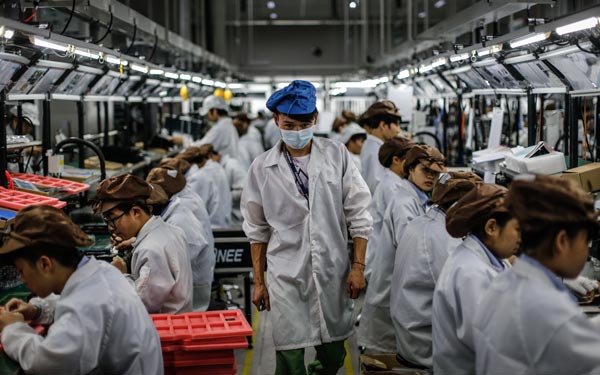 Workers at an export-oriented mobile phone parts enterprise in Dongguan, Guangdong province. [Photo/China Daily]
After intensive industrialization, growth deceleration is natural. No nation has enjoyed sustained double-digit growth after industrialization. The real test of resilience is the continued increase of Chinese living standards.
In 2015, China's economy grew by 6.9 percent. Internationally, the performance was portrayed as the "slowest in 25 years." Some argued that the slowdown reflected the eclipse of domestic demand. Others claimed it heralded China's "hard landing." And yet, the performance was within range of the government's official target of "about 7 percent." 
What the deceleration signals is not China's demise, but the eclipse of Chinese industrialization. 
Deceleration is normal
In the past, China enjoyed "double-digit growth." Today China's growth is slowing relative to its past performance. Historically, that is the norm, not the exception.  
During intensive industrialization, most advanced economies have enjoyed relatively high growth. With the transition to post-industrial services, their growth has decelerated.
When the Industrial Revolution peaked in England in the early 19th century, the country experienced a "growth miracle." At the turn of the 20th century, US growth accelerated dramatically. After World War II, Western European economies had their growth miracles. A decade or two later, Japan followed in the footprints.
As these countries completed their industrialization and began to move toward a post-industrial society, growth acceleration gave way to deceleration. 
What makes China different is its massive scale and the purposeful effort to shift from economic growth to rising living standards.
Rebalancing is not 'hard landing'
As China is "rebalancing," the economy is shifting from growth based on investment and net exports, which is not sustainable, to growth fueled by consumption and innovation, which is more resilient.
In the past, property markets drove the Chinese economy. However, last year real estate growth continued to decrease from almost 16 percent to 10 percent. The same goes for fixed-assets investment. Moreover, last December China's exports fell 1.4 percent on a quarterly basis, and imports slid 7.7 percent. Instead, services grew by almost 11 percent, faster than the industrial sector. Concurrently, retail sales of consumer goods - the key indicator of consumption - climbed over 11 percent on an annual basis. The services sector now accounts for over 50 percent of the Chinese economy. In 2015, Chinese consumption, which accounted for less than 40 percent of the GDP only half a decade ago, contributed nearly 60 percent to GDP.