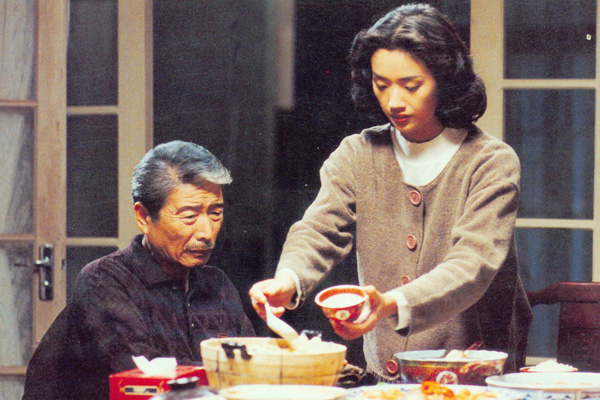 The movie Eat Drink Man Woman, directed by Ang Lee, is about the generation gap.[Photo provided to China Daily]
Cultural roots
There were no movements such as "smashing four relics" that would cause a rift in the learning of cultural heritage. The old yielded to the new in a more natural evolution rather than being knocked down and trampled by the young.
This is amply demonstrated in Eat Drink Man Woman where the generation gap becomes the thematic focus.
The father wants to preserve the ritual-like family banquet, but his children show an impatience — not admiration — for it.
Reconciliation is reached not through Hollywood-style confrontation, but with the deepening of mutual understanding and, perhaps unexpectedly to some, a healthy dose of Chinese humor.
In a more spiritual way, A Dream Like a Dream is permeated with qi, the invisible energy that signifies the passing of the mantle from old to new and builds up to a tidal wave of emotional and spiritual climax when the ones leaving this world take away negative qi and bequeath whatever is positive to the next generation.
In Lin's Nine Songs, shamanistic rituals are recreated, illustrating the connection between ancestry and modernity. A centerpiece has an almost naked man wearing a mask in slow motion contrasted by men in modern dress moving swiftly.
Despite their reverence for cultural heritage, the Taiwan masters never adopt a servile attitude. Lee may be the most traditional — at least in form. He goes for the subtlety that underpins some of China's literary classics. Lai single-handedly elevated the folk entertainment of cross-talk (xiangsheng) to a veritable art form.